Imhotep's Guide To Black Events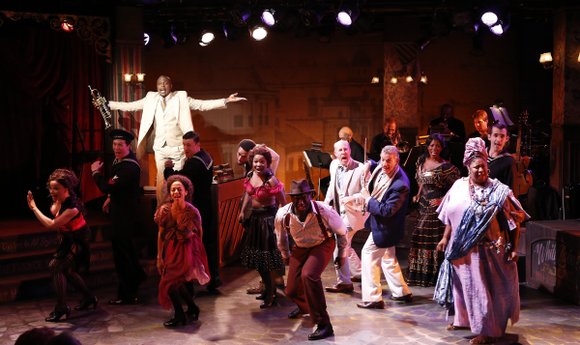 "Smooth Cruises" presents Najee on Wednesday, July 31 at 6:30 p.m. or 9:30 p.m. on the Spirit of N.Y. at Pier 61. For more information, go to http://marqueeconcerts.com or www.wbls.com.
COMMUNITY
Lincoln Center Out of Doors, which runs from now through Aug. 11, will feature over 100 free performances across the plazas of Lincoln Center, including noted African and African-American music, dance and spoken word artists. All events are free; no tickets are required. For detailed descriptions of the performances, as well as a complete calendar of events, go to www.lcoutofdoors.org or call 212-875-5766.
Newark's Revered Lincoln Park Music Festival (LPMF), a multi-day event, has occurred without safety incidents of any kind for eight years and has been a model of safe, family-friendly fun for the residents of Newark, N.J., plus a growing number of regional and national guests.
During the days of the festival (July 25-28), attendees can mix and mingle in the arts and crafts marketplace, enjoy food from scores of food vendors and learn more about getting in shape in the health and wellness pavilion. The first day of the festival will feature the Bernie Worrell Orchestra. (NJPAC's sounds of the City and the LPMF are co-presenting this FunkFest event.)
For jazz lovers, there will be a musical tribute to the legendary Wayne Shorter by Amiri Baraka's New Arkestra, with an all-star lineup. For house music lovers, LPMF welcomes Terisa Griffin and Jihad Muhammad.
For lovers of gospel music, there will be Will Brown and Another Level, and Jules Bartholomew and JudaCamp.
For lovers of the golden era of hip-hop, Newark native Redman, Lords of the Underground and Black Thought of the Roots will be on deck.
The event takes place in Lincoln Park, located at 1035-1071 Broad St., Newark, N.J. For information about the Lincoln Park Music Festival, call 973-242-4144 or visit www.lpccd.org/arts-culture/music-fest.
Harlem Week 2013 kicks off with "It's a Great Day in Harlem!" this Sunday, July 28. The day will celebrate the 150th anniversary of the Emancipation Proclamation with an amazing schedule of events, including a concert tribute,"Songs in the Key of Life," celebrating 50 years of Stevie Wonder at Grant Memorial Park, 122nd Street and Riverside Drive. For a full schedule and Harlem Week 2013 event information, go to www.harlemdiscover.com.
The 15th annual Dr. John Henrik Clarke tribute, "Failure is Not an Option," will take place on Sunday, July 28. Participants include Imhotep Gary Byrd and Lisa Noble, Adelaide Sanford, Councilman Charles Barron, Assemblywoman Inez Barron, the Rev. Herbert Oliver, Nana Camille Yarbrough, Newark City Councilman Ras Baraka, Sister Betty Dopson, Brother Bernard Gassaway and more! It will take place at Boys & Girls High School, 1700 Fulton St., Brooklyn. Admission is free.
Hear Imhotep Gary Byrd on 107.5 WBLS-FM daily with "Imhotep's On-Air Guide to Black Events" and "Express Yourself," Sunday evenings from 7 to 9 p.m., and on WLIB-AM with "The GBE Mind Flight," Sunday evenings from 9 p.m. to midnight. The full show can be heard on HD radio at WBLS-HD2. IGB is also heard on WBAI-FM 99.5 with Radio GBE: The "Global Black Experience" and "Global Beat Experience," Saturdays from 5 to 7 p.m. We are archived online with both shows at www.wbai.org. To contact us for bookings or to reach us about your event, email igbexp@gmail.com, find Imhotep Gary Byrd on Facebook or follow us on Twitter @GBELIFE or call 212-592-3279.