Lots to Love in Madison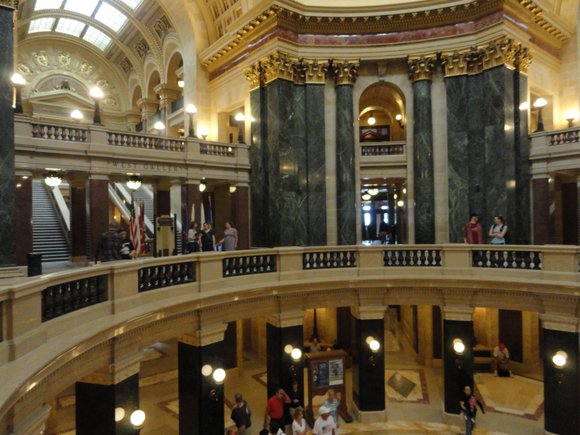 This has been a great sojourn in and around Madison, Wis., where there's lots to love.
Madison Adores Frank Lloyd Wright
Last time around, we enjoyed a fantastic tour of the 600-acre estate of Frank Lloyd Wright's Taliesin, located in Spring Green. Two of his other landmarks here are the historic Unitarian Meeting House and Monona Terrace Community Convention Center.
Recognized as one of the most innovative examples of church architecture and listed on the National Register of Historic Places, the historic Unitarian Meeting House was commissioned by the First Unitarian Society of Madison. The original structure—constructed of native limestone, copper and glass, with a unique angular sanctuary and hall—was completed in 1951. A major expansion in 2008 added a second, 500-seat auditorium and new community spaces. Tours of this amazing facility take place year-round and, like Taliesin, really provide visitors with another example of Wright's lifelong desire to have his designs improve lives and influence how others feel and think.
Monona Terrace Community Convention Center also offers tours that extol the meticulous and loving details Wright bestowed upon his original designs for this structure in 1938. Unfortunately, he never lived to see it come to fruition. Nonetheless, thanks to his understudies, the building was finished in 1997, resulting in a stunning, curvilinear, 250,000-square-foot, architectural masterpiece that links the shore of Lake Monona with the State Capitol. The highlight here is that the building spans 90 feet out and over the lake to capture its breathtaking views while featuring Wright's signature organic design, which incorporates dramatic, open spaces, circular forms and an expansive rooftop garden.
Attractions Galore
Just up the street on Capitol Square, you'll find the Wisconsin State Capitol. Completed in 1917, reaching 284-feet-high and featuring the only granite dome in the U.S., the capitol sits on the downtown isthmus bordered by lakes Monona and Mendota. The free tours, offered daily, provide a wonderful overview of the structure, which encompasses 43 varieties of stone from around the world, glass mosaics, hand-carved furniture, decorative murals and a great deal more.
The architecture is absolutely stunning, and it was very fun and interesting to sit in the governor's office and the hearing room, among other rooms, plus take in spectacular 360-degree views of the city from the observation deck outside of the dome. One additional tidbit: This is the only state capitol I have been to where there are no security checkpoints—you just walk right in. I asked a local about it and they responded, "We really feel like this is the people's house, and we want people to feel welcome." Well, that's what I've been saying all along about how Madison possesses such a relaxed and welcoming vibe.
If you are in town on a Saturday from late April through the first of November, from 6 a.m. to 2 p.m.–rain or shine—you can enjoy the Capitol and the Dane County Farmers' Market on the same day. One of the finest and largest farmers' markets in the country with 18,000 visitors every week, the market is a true Madison tradition.