Sharon Content: Shedding light on an issue kept in the dark
Black New Yorker
Mahogany Linebarger | 7/29/2013, 10:38 a.m. | Updated on 7/29/2013, 10:38 a.m.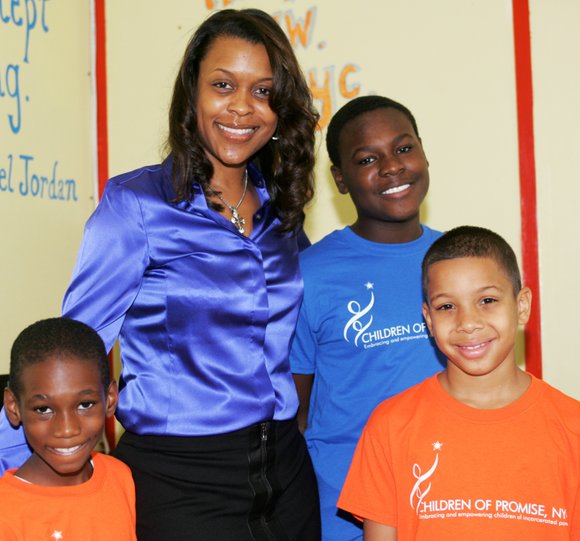 How many people get to say that they have a job that leaves them totally fulfilled each and every day—a job that allows them to make a difference in the lives of many? Sharon Content is living this dream as the founder and president of the nonprofit organization Children of Promise.
Born to native Trinidadian parents, Content was raised in Queens. She said, "Education was always very important, and once I graduated college, it was like, 'OK, so what are you going to do?'" Content received her degree at Howard University, and after graduating, Content worked as a budget analyst for a major Wall Street investment bank. "Wall street at the time was the hot, sexy place to be," said Content. However, she made such a drastic change in career paths because she needed to feel more fullfilled.
She explains it as finding her calling. She said, "After working there [on Wall Street] for five years, I decided it really just wasn't what I wanted to do. I didn't feel the fulfillment or the satisfaction or gratification at the end of the day." After she came to that conclusion, she knew that she wanted to enter the nonprofit sector but did not know where. So she floated around, bringing her gifts and skills to a number of organizations and gaining experience from each one. Content's first opportunity in the nonprofit field was as a director of an alternative to incarceration program (ATI) in Brooklyn. With this organization, she was able to work with at-risk youth, teaching them about business and finance. She said that after her time with the ATI program, "I totally found my calling—working with young people. I knew this was it. And I loved it."
She then worked with more traditional after-school programs like the Boys and Girls Club of America, where she was a chief operating officer over the 15 sites across the South Bronx, and the Girl Scouts of America. "I was able to use my finance background in the nonprofit sector while working with young people. And from there, I decided I wanted to form my own."
Content knew from the beginning that she wanted to work with organizations that focused their efforts on issues that affected urban communities; so after making the decision to found her own nonprofit, she drew on her experiences to focus on an issue that she describes as being kept in the dark.
Children of Promise (COP), now entering its fifth year, is a nonprofit after-school and summer program that targets children who have an incarcerated parent. The program aims to reduce the ongoing stigma that comes along with families dealing with incarcerated loved ones. It also strives to provide a structured environment that allows for the children in these situations to express themselves openly and without judgement. "I wanted to form an organization that I felt worked with young people, providing a quality service. I found a population that I believe was pretty much invisible, a population that I felt society really didn't think about," said Content.