Weiner vows to stay in race amid new scandal
Cyril Josh Barker | 7/29/2013, 10:40 a.m. | Updated on 7/29/2013, 10:40 a.m.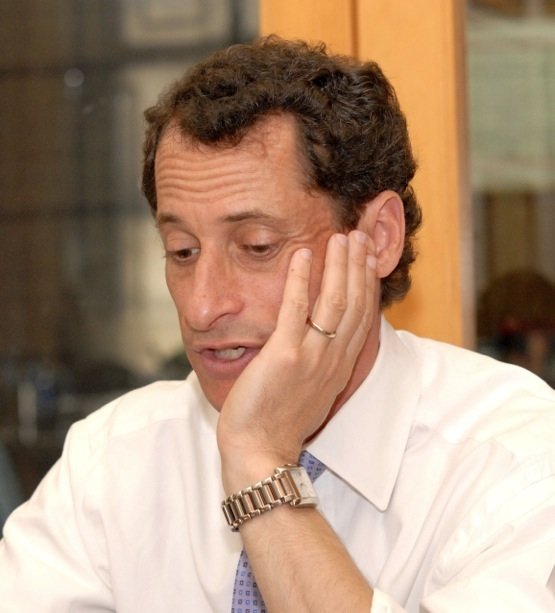 When you perform a Google search on Anthony Weiner, there is no mistake that a picture of his bear chest is one of the first things you'll see. However, that search could also lead to your seeing unwanted, X-rated content as more of his sexual online activity is being revealed.
With his wife, Huma Abedin, by his side this time, the former congressman-turned-mayoral candidate addressed more sexual explicit communication that was uncovered on Tuesday. The new content surfaced on Tuesday and allegedly took place a year after he apologized and left his seat in 2011 for similar actions.
At a press conference on Tuesday at the Gay Men Health Crisis Center in Manhattan, Weiner said he is staying in the race for mayor and reiterated that more texts would come out. Weiner left office as a multi-term congressman in 2011 after the revelation of sexually charged messages he sent to several women; many say he is back at square one.
New information that came out this week connects Wiener to a women identified as "Sydney Leathers." She was reportedly 22 years old at the time when she and Wiener met on Facebook, and they carried on a six-month online relationship on the website Formspring.
Pictures and screenshots of Wiener's communication with the woman—for which he used the alias "Carlos Danger"—were posted on TheDirty.com on Tuesday along with statements from the woman. She claimed she fell in love with him and was promised a condo in Chicago and work with Politico.
"I just want to clarify that although I was 22 and technically an adult, I was obviously immature and I acted irresponsibly," she said. "I realize my correspondence with Mr. Anthony Wiener was a huge mistake, and I am embarrassed by it. But the facts are the facts, and he's running for mayor of New York City, so I felt I should get my story out there."
Weiner did swift damage control at Tuesday's press conference, again apologizing for his actions. This time, Abedin spoke at the press conference, vowing her loyalty to her husband amid the latest scandal.
"As I have said in the past, these things that I did were wrong and hurtful to my wife and caused us to go through many challenges in our marriage that extended past my resignation from Congress," he said. "While some of the things that have been posted today are true and some are not, there is no question that what I did was wrong. This behavior is behind me. I have apologized to my wife, Huma, and I'm grateful that she has worked through these issues with me and I have had her forgiveness."
Speaking out for the first time since news broke in 2011 of her husband's sexting, Abedin took center stage to discuss her relationship with Wiener and the work they have done to save their marriage, including going through therapy.
She said, "Anthony's made some horrible mistakes, both before he resigned from Congress and after. But I do very strongly believe that that is between us in our marriage."