Former Knick Jerome Williams now a Youth Talk Ambassador
6/6/2013, 12:34 p.m.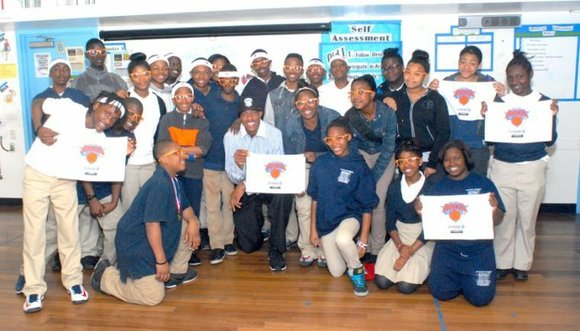 Jerome Williams, the former NBA star with the New York Knicks and now a Youth Ambassador, spoke to students at East Harlem's renowned Children's Storefront School, whose mission is to educate and enlighten the minds of their students.
Williams was considered during his NBA tenure to be among the top players in the league. In 2000, he led the league in rebounding percentages. He was also a three-time NBA Community Service Awards honoree during his nine-year career.
The now retired resident of Las Vegas and former Knick has gone from grabbing rebounds to grabbing the attention of youth around the country. As exciting as he was as a player, so too is his Youth Talk program, which young folks from the Children's Storefront enjoyed earlier this week.
He manages to spread his community Youth Talk program around the country when he can squeeze in time away from his assistant coach obligations at Findlay Prep in Henderson, Nev. The school's mission is to prepare students for the next step in higher education and lead them to to their chosen future careers.
Williams is also the founder of the children's charity the JYD P.R.O.J.E.C.T., whose mission is to "unify people of all nationalities in a collective effort to save the nation's youth.
Known during his playing days as the "Junk Yard Dog," Williams doesn't just talk about "giving back," he gives back 100 percent, as he did when he joined a group of New York Knicks in presenting a basketball clinic on Staten Island this past January. For more information on the Youth Talk program, call 702-290-3113 or 917-902-7668.