Gallery in Bed-Stuy pays tribute to the boombox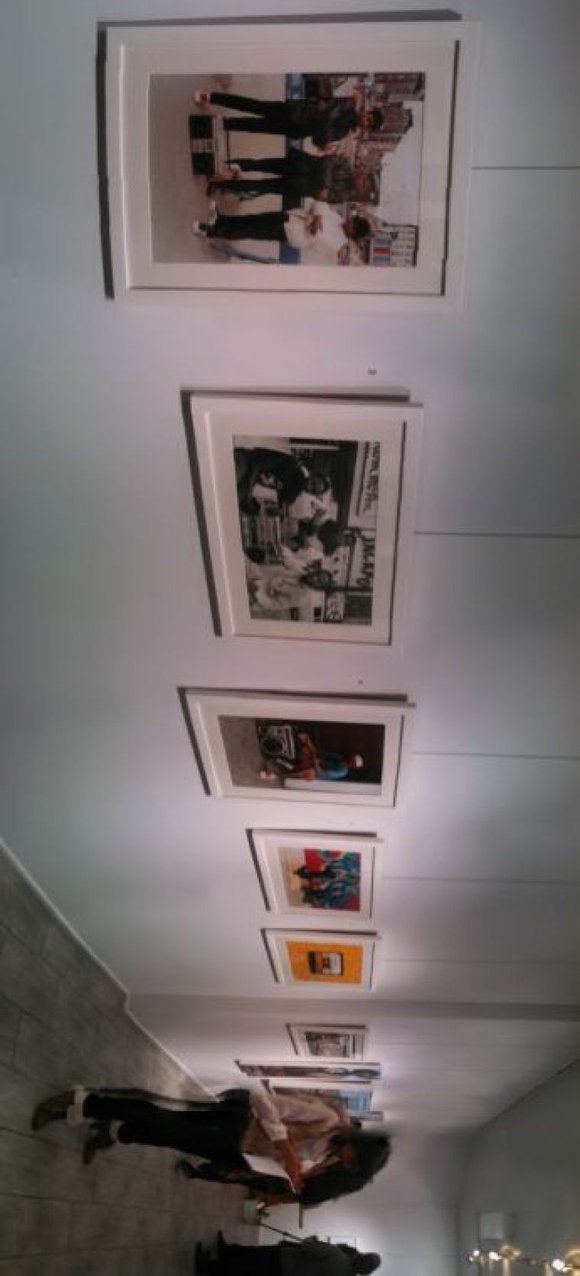 Funky time travel occurred on April 11 at the House of Art Gallery in Bedford-Stuyvesant, Brooklyn. An art exhibit dedicated to one of the most treasured devices in music history--and New York City's history--provided a whiff of nostalgia for residents of a certain age.
Richard Beavers, owner and curator of the House of Art Gallery, called on a collection of artists to create work that celebrated and appreciated the boombox as part of "The Boombox" exhibition. The concept of the exhibition is to present and demonstrate the influence that 1970s and 1980s art, politics and fashion had on the city and how it continues to affect those who live here. With the boombox being an essential element during the early days of hip-hop culture--and years before it--it represented a shift in the city, and people was defined by their feelings for or against it.
Inspired by Lyle Owerko's book "The Boombox Project," Beavers collected work from artists like Jamel Shabazz, Justin Bua, Frank Morrison, Dan Ericson, Najee Dorsey, Jas Knight, Anton, Tim McCray and Phyllis Stephens to help pay proper tribute.
On the VIP opening reception night, the AmNews spoke to a few artists and one major tastemaker in hip-hop's history on the significance of the exhibit. Nina Boesch moved to New York from Germany back in 2001, without much to her name. She looked to other ways of acquiring equipment to work with.
"I needed some sort of medium so I started collecting MetroCards," said Boesch. "I created collages from MetroCards due to that fact that I couldn't afford oil paints, and from the early days on, I was motivated by others to continue doing what I was doing.
One of Boesch's works includes a mixtape made from MetroCards with the words "Beastie Boys" written on top. Another MetroCard collage recreated the MTA's locally famous anti-smoking, anti-drinking, anti-radio playing signs. Boesch talked more about that sign and about her excitement over being part of this exhibit.
"It's exciting to be part of a New York City exhibit using New York City mediums," continued Boesch. "When Richard told me that this whole exhibit is about the boombox and how it inspired the music and the '70s and '80s art scene, I kind of instantly knew what I wanted to do. The signs on the subway station still show a boombox when they tell you not to listen to loud music and that's kind of a sign that the boombox was a big hit. The sign wasn't changed to an iPad or an iPhone."
Charlotta Janssen, another German ex-pat, was called on by Beavers to contribute work. Her biggest and most discussed piece was a painting of rapper Melle Mel with lyrics from Grandmaster Flash and the Furious Five's "The Message" written around him. To this day, it's one of Janssen's favorite songs and recalls that for her, it was the first time she fell in love with music and the boombox.
"I think what really got us all attached was that freedom that came with it," Janssen said of the boombox. "You could make your own mixtape, you can make your own sound environments, you can take your music wherever you wanted to and this world came to you through the boombox. I grew up in the countryside, so this urban culture came to me through the boombox. We'd have discos behind cow pastures or in the cellars of bunkers from the Second World War."