National Football Foundation honors Dr. Roscoe Brown and the 2012 class of legends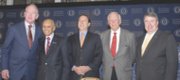 The historic Waldorf-Astoria Grand Ballroom in New York City witnessed an all-star cast of history's greatest football players at the 55th annual National Football Foundation Awards Dinner on Tuesday night. With more than 75 current collegiate head coaches and 40 returning members of the College Football Hall of Fame in attendance, the fabled spectacle lived up to the historic expectations.
Many well-known football luminaries were in attendance, adding to the magnitude of the much-anticipated event. ESPN's Rece Davis emceed the event, NFF Board member and New England Patriots owner Robert K. Kraft delivered the welcome address, and NFF Board member and Dallas Cowboys owner Jerry Jones had the honor of introducing all of the great college football coaches in attendance.
The 2012 College Football Hall of Fame class, including 11 All-Americans, was presented by NFF Honors Court Chairman Eugene Corrigan and AFCA Executive Director and Hall of Fame coach Grant Teaff. The honorees were Charles Alexander (LSU), Otis Armstrong (Purdue), Steve Bartkowski (California), Hal Bedsole (Southern California), Dave Casper (Notre Dame), Ty Detmer (BYU), Tommy Kramer (Rice), Art Monk (Syracuse), Greg Myers (Colorado State), Jonathan Ogden (UCLA), Gabe Rivera (Texas Tech), Mark Simoneau (Kansas State), Scott Thomas (Air Force), John Wooten (Colorado), and coaches Phillip Fulmer (Tennessee), Jimmy Johnson (Oklahoma State and Miami, Fla.) and R.C. Slocum (Texas A&M).
The 14 players and three coaches brings the total number of players in the Hall of Fame to 914 and the number of coaches to 197.
Johnson delivered the response on behalf of the class, saying it was an incredible feeling to be enshrined into the hall with a group of men who have done so much for college football.
"Everybody in this room has had contact with football at one time in their life," Johnson said. "Everybody knows it is not easy. They know about the sacrifices that the families have had to make. They know about the gut-wrenching feeling of losing a ballgame and not being able to sleep at night and putting their heart and soul into something they truly love. To be recognized for that is truly special."
AN EMOTIONAL MOMENT
The event hit an emotional peak when a NFF Board member presented the Gold Medal Award to Dr. Roscoe Brown Jr. The Tuskegee Airman is considered a patriot, trailblazer and leader by his colleagues, and Brown spoke to the audience about how far the United States has come in the last 65 years since he overcame racial obstacles as a pilot during World War II and the lessons and value sports play in our society.
"One of the things that the sport teaches us is that excellence overcomes stereotypes and obstacles," Brown said. "Through sport, and particularly football, we have been able to break the barriers of gender bias and ethnic bias, and tonight, we can feel very proud that as we honor the excellence on the football field, we are also honoring the excellence in our hearts and minds because we have changed this country."