U.S. Offers reward for arrest of Abubakar Shekau, Boko Haram leader
6/6/2013, 11:52 a.m.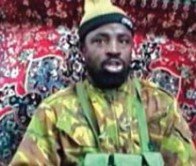 The U.S. Department of State's Bureau of Diplomatic Security has put a price on the capture and arrest of Abubakar Shekau, the head of Nigeria's Boko Haram insurgent group.
The $7 million "reward for justice" for Shekau's location is more money than for Mokhtar Belmokhtar or Oumar Ould Hamaha, whose respective groups, Signatories in Blood and Movement for Unity and Jihad in West Africa, jointly claimed responsibility for attacks in Arlit and Agadez, Niger, on May 23.
There are also rumors in Nigeria that the United States is seeking to eliminate Shekau in a drone strike from its new base in Niger, according to Jacob Zenn of the Washington, D.C.,-based think tank the Jamestown Foundation.
The bounty announcement reads: "Under Shekau's leadership, Boko Haram's operational capabilities have grown ... There are reported communications, training and weapons links between Boko Haram, al-Qaeda in the Lands of the Islamic Maghreb, al-Shabaab and al-Qaeda in the Arabian Peninsula."
Nigeria's war on the insurgent group has given the military wide latitude in making arrests or taking revenge against citizens perceived as allied with the Islamist group. Last month, President Goodluck Jonathan declared a state of emergency in three northern states and sent over 2,000 troops to Borno, which shares borders with Cameroon, Chad and Niger.
Cellphone service has been shut down, but there have been a few reports of extra-judicial killings like in July 2009, when Boko Haram founder Muhammad Yusuf and a thousand other members were killed by security forces.
Should Nigeria fail to conduct an effective and lawful counter-insurgency campaign, it could damage U.S. AFRICOM's "still undefined" future role and reputation in Africa because of AFRICOM's assistance to the Nigerian military," observed Zenn in a guest post for the Council of Foreign Affairs.
The president's state of emergency has already faced condemnation from the head of ActionAid, an anti-poverty organization based in Abuja, Nigeria. ActionAid Country Director Hussaini Abdu said, "Innocent people have been arrested. The bulk of Boko Haram are young people ranging from 15, 16 to about 25 years of age. So when you find any young man of that age, you arrest him whether he is Boko Haram or not. Many times, there is not even evidence to show they are Boko Haram."