RIP Malcolm Shabazz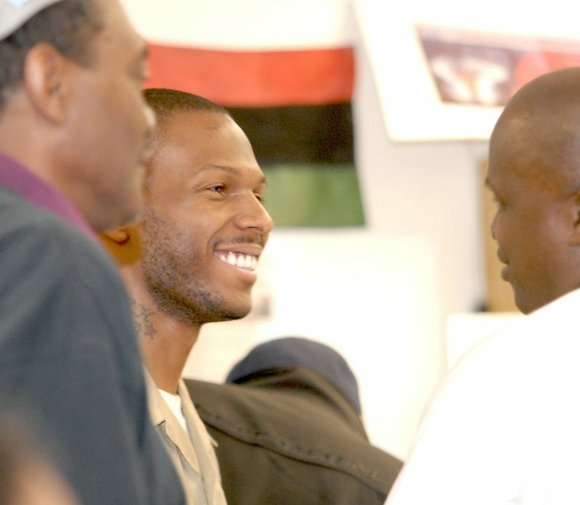 News that two suspects, Alejandro Perez de Jesus, 24, and David Hernandez Cruz, 24, have been arrested in the violent murder of Malcolm Shabazz, the first grandson of slain Black activist Malcolm X (Al-Hajj Malik El-Shabazz), has not lessened the shock and anger felt throughout the nation and the Black Diaspora.
Some reports this weekend suggested the possibility that Shabazz may be interned alongside his grandparents, Malcolm X and Dr. Betty Shabazz, in Ferncliff Cemetery in Ardsley, N.Y. With his mother, Qubilah Shabazz, in California at press time, it has been reported that the funeral service may be held in Oakland, Calif., on Thursday, May 16 or Friday, May 17.
It was a bright and 75-degree afternoon on Thursday, May 9, when the Amsterdam News received a phone call reporting the murder of Malcolm Lateef Shabazz.
Subsequent phone calls--including one made by this reporter--led to the harsh task of actually informing the family of young Shabazz's death.
The circumstances of the killing evolved during the afternoon: first, the AmNews was told that the 29-year-old father of two daughters was shot to death; he then died from injuries from being thrown off of a roof; and finally, he was beaten to death after an attempted robbery.
Grief accompanied by suspicion and anger have reverberated throughout the Black community.
Just hours after learning of her son's death, Quibilah Shabazz called this reporter to request that the community respect the family's privacy at this very difficult time.
"We will miss him," said the Shabazz family in a statement. "We are deeply saddened by the passing of our beloved El-Hajj Malcolm El-Shabazz. To all who knew him, he offered kindness, encouragement and hope for a better tomorrow. Although his bright light and boundless potential are gone from this life, we are grateful that he now rests in peace in the arms of his grandparents and the safety of God. "
Shabazz family acquaintance and youth advocate Terrie Williams was instrumental--along with the AmNews--in informing the Shabazz family of Malcolm's passing. Williams, who is also the author of "Black Pain," told the paper, "This young man had such a challenging life. He was a beautiful individual who was just trying to find his way. My heart is broken."
When news of Shabazz's killing spread, members of the Black grassroots movement were skeptical, and they immediately theorized about government involvement.
Reports of the arrest of the two suspects did not dampen the shock or pain felt by many, especially those organizing the annual pilgrimage to the gravesite of Malcolm X, where his wife is also interned, this Sunday, May 19.
"The story just does not make sense," said Divine Allah, New Jersey activist and youth minister for the New Black Panther Party. Speaking with the AmNews on Wednesday, he asked, "Why would someone murder a random man over a bar tab or during a robbery in front of a whole bunch of people? The real story will all come out eventually. This was a young brother who had been targeted most of his life. Why? He was the grandson of one of our greatest Black leaders. Malcolm Shabazz was trying to find his path where he could be of great social and political influence. This young man was beginning to be known in his own right across the world. This has assassination written all over it."