RIP Malcolm Shabazz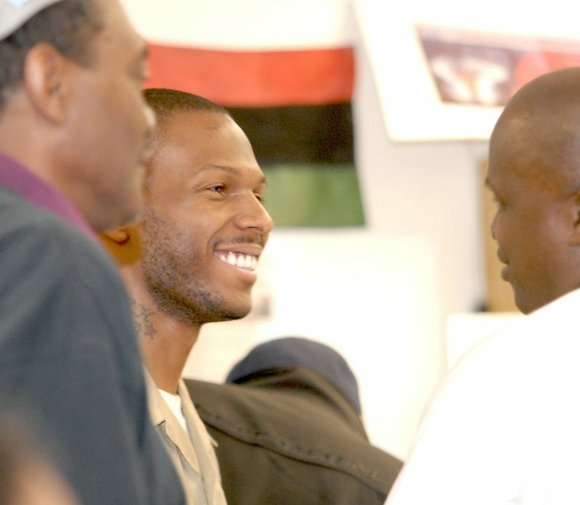 Subsequently, Shabazz pled guilty to juvenile delinquency and was sentenced to 18 months in juvenile detention for manslaughter and arson.
Many years later, Shabazz told the AmNews that the story that was reported, and even the story admitted to by himself, was not quite what people were told and that he was coerced.
Upon his release, and while living with his aunt, Ilyasah Shabazz, Malcolm was arrested in 2002 for stealing $100. He got three and a half years, he told the AmNews, because he stopped a girl from being raped and took her to the hospital, and he was later arrested and charged with kidnapping and robbery and a bunch of charges.
"This man faced tremendous challenges," a friend of the family told the AmNews, adding that they wanted to honor the family's wish for privacy. "We all do know, though, that so much was imposed on Malcolm--some of his own doing, some put on him by outside forces."
When asked in March 2011 by the AmNews if he thought he was a target, Shabazz replied, "Definitely. I've been a target my entire life. My family is targeted."
Shabazz later wrote: "The formula for a public assassination is the character assassination before the physical assassination, so one has to be made killable before the eyes of the public in order for their eventual murder to then [be] deemed justifiable. And when the time arrives for these hits to be carried out, you're not going to see a CIA agent with a suit and tie and a badge that says 'CIA' walk up to someone and pull the trigger.
What they will do is outsource to local police departments in the region of their target and employ those who look like the target of interest to infiltrate the workings in order to set up the environment for the eventual assassination (character, physical incarceration, exile) to take place."
Buzzing with opinions on the story, for example, is the website www.yourblackworld.net. Tracey Lin Miller wrote, "Wonder if this is another scapegoat affair, when there are other factions at work. Remember COINTELPRO."
Eldon Pittman Jr. asked, "Why wasn't the other guy beaten?"
Meanwhile, Jon Johnson said, "It's a sad way to die ... doesn't sound like all the facts are being presented, and I doubt they ever will.
Mali said, "Dear people reading the letter that he wrote prior to his expiration to murder, it will make you wonder about the FBI/CIA actions. [In the letter,] he [talks] of the harassment from the New York Police Dept. and the FBI."
Insight stated, "What [do] you want to bet [that] these two guys do three years in an upscale private prison, and when they are released, they move into their new hacienda?"
"One of the things I learnt from my grandmother, Betty Shabazz, is that you can't help anybody else until you first help yourself, so for a long time, I was going through my journey, my trials, my struggles and my effort to get myself together," Malcolm Shabazz told the AmNews in 2011.
"It's definitely an inspiration being the grandson of Malcolm X. It has been a blessing in terms of being able to connect with other revolutionary spirits and militant-minded people all over the world like Roland Lumumba, the son of Patrice Lumumba, and Samia Nkrumah, the daughter of Kwame Nkrumah, and Fred Hampton Jr. and Yuri Kochiyama, the first person to be by my grandfather's side when he was shot.
"But it's been a disadvantage in terms of being targeted by select businessmen and government officials."
This week, as they continue to grieve, the Shabazz family said, "With grateful hearts, we send sincerest appreciation to our supporters around the world for your tremendous outpouring of love and respect during our time of grief."