State Sen. John Sampson indicted on nine counts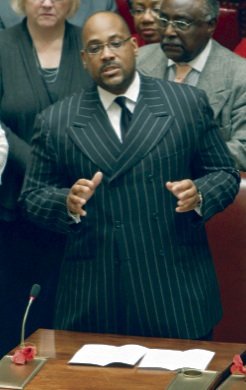 Attorney Ken Thompson, who is a candidate for Brooklyn district attorney, believes a "corrupt political culture has festered on Joe Hynes' watch, but for the second time in four days, it has been federal prosecutors--not our own district attorney--going after alleged public corruption in Brooklyn. This is nothing new.
"When the district attorney has to recuse himself from prosecuting politicians like Vito Lopez," Thompson continued, "you know that politics clearly matter more than public integrity to Joe Hynes. It's time for new leadership in the DA's office, which will take on tough cases, not run the other way."
Political consultant George Artz of the Friends for Charles Hynes, in response to Thompson's accusations, said, "Mr. Thompson tries to avoid talking about his own nonexistent record by lashing out at others. Contrary to his record as a U.S. attorney, where he never prosecuted a public official, Joe Hynes convicted a Brooklyn Democratic chairman and deputy Assembly speaker, three Supreme Court judges and a member of the state Assembly. It was Mr. Thompson who represented John Sampson and Pedro Espada and tried to quash a state investigation into the awarding of a casino gambling contract to AEG." Meanwhile, Andrea Stewart-Cousins, the Democratic leader of the state Senate--a position Sampson once held--has stripped the senator of his committee assignments and said that he can no longer caucus with his colleagues in the Senate.