Weiner enters mayoral race, speaks to black community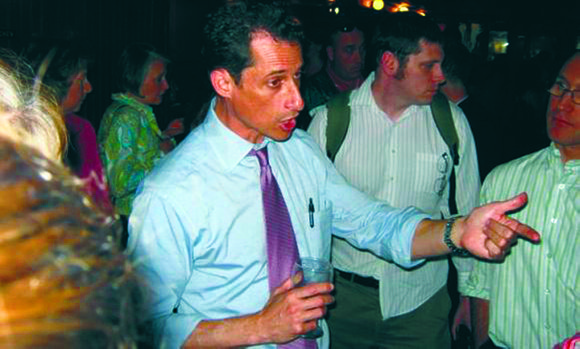 With one YouTube video, Anthony Weiner has altered the landscape of the 2013 New York City mayoral race.
Weiner announced his candidacy for mayor of New York City in a slickly produced video that debuted on YouTube late Tuesday night. In the video, Weiner touts his parents' background as a typical New York story and discusses the issues he feels plague the city in the present, like the working class being priced out and the lack of jobs that provide a living wage.
Before he was interviewed by other media outlets, Weiner called the AmNews for an exclusive. His first words were that he knows that his recent past could deter people from even considering his platform and ideas, but that isn't stopping him from running anyway.
"I don't begrudge citizens wanting to ask about the mistakes I've made," said Weiner to the AmNews. "I have no objections to being asked about my private life, but I hope that they take a look at my ideas and what I want to talk about. I want to talk about the issues facing New York City. I'm gonna be out and about, and I have a lot of catching up to do in terms of organization."
Weiner reiterated his stance that the middle-class New York he grew up in is dead and gone. "Finding affordable housing has become impossible," he said. "We've replaced middle-class jobs with poverty-level jobs." The former congressman said that he wanted to be the mayor for "aspirational" New Yorkers who want to make it to the middle class. "I want to be an inclusive mayor," Weiner said.
The newly declared candidate discussed wanting the Democratic Party to take the back the mantle as the "idea party" with concepts designed to push progressive agendas. He feels that under current Mayor Michael Bloomberg, too much money has come in and "distorted" city politics. As for Bloomberg's third term, he had this to say: "I was ahead of the game. I tried to deny him his second term."
In 2011, getting people to vote for him was the least of Weiner's worries. The congressman's political career had come to a halt after he was caught sending lewd photos and messages to some of his female followers on the social media network Twitter. After initially claiming that his account was hacked, Weiner eventually confessed and left the House of Representatives.
While Weiner's announcement has made news around the city, and the country, the current mayoral candidates didn't seem to care about it. Before a mayoral forum hosted by Crain's New York Business in Midtown on Wednesday morning, Democratic mayoral candidate and Council Speaker Christine Quinn didn't even mention his name when asked about his announcement. She talked about her own record instead.
"I don't care who enters the race. Nobody has a better, stronger, clearer record of delivering for working-class and middle-class New Yorkers than I do," said Quinn. "Why should I talk about anybody but myself? I'm the one running for mayor here."