For great stadium eats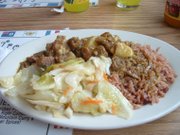 If you are a big sports fan, you probably travel from time to time to different cities to cheer on your favorite teams. And whether it is a day trip a few hours away or a long weekend somewhere further afield, your sojourn is going to involve food.
So when I saw this article from Fodor's Travel, "Best Eats Near Yankee Stadium," even though I am not a big baseball fan, the eats they mention got my mouth watering.
For example, located just a stone's throw from the stadium at the corner of East 161st Street and Concourse Village East, Fauzia's Heavenly Delights is a mainstay vendor cart serving what owner Fauzia Abdur-Rahman calls "international blends of Caribbean-Nouveau and multi-ethnic fusion." Items on the menu, which changes daily, encompass curry goat, jerk chicken, curry chicken, codfish cakes, traditional Jamaican rice and beans, chickpeas and spinach and a wide array of vegetarian dishes, including barbecue tofu and vegetarian chili, just to name a few.
Also on Fodor's list is the Feeding Tree on Gerard Avenue (718-293-5025). Good eats here include ackee and calaloo breakfast sandwiches served with boiled yam and banana or fried dumplings; beef, chicken and vegetable patties; cow foot and cungo pea soup; curried goat and shrimp roti; and for dessert, plantain tarts, sugar buns, fruit cake and pineapple or guava cake.
Then I got to thinking ... what other fantastic, close-to-the-stadium, "be sure not to miss" eats--for any sport: football, soccer, basketball, track and field and so on--can I find to enjoy all year long? So here you go, a few top picks to get your eat on--sports fan or not!
CHOW DOWN,
TEXAS-STYLE
Who says you can't get good seafood inland? Well, the folks at Papadeaux Seafood Kitchen (817-534-0544, www.pappadeaux.com) near Cowboys Stadium in Arlington, Texas, just might change your mind. Menu items include a bevy of options such as the crabfinger dinner, fried oysters and shrimp, the seafood platter with fried tilapia or catfish fillets, shrimp, a blue crab cake, stuffed shrimp and stuffed crab, Shrimp Creole & Grits, filet mignon and grilled rock lobster and grilled Caribbean lobster tail.
For a little bit of the Big Apple in the Lone Star State, consider a stop at New Yorker Pizza and Pasta (817-461-1950, www.arlingtonnewyorkerpizza.com), which serves up fried calamari and fried cheese stick appetizers and heaping piles of spaghetti, linguine or penne pasta with your choice of tomato, garlic and olive oil, meat, butter and sausage sauces.
In Houston near the Astros' Minute Maid Park, Home Plate Bar & Grill (713-222-1993, www.homeplategrill.com) offers Frito Pie piled high with Fritos corn chips, chili, cheddar cheese, pico de gallo and sour cream, in addition to a wide array of delicious burgers, including the Whiskey BBQ Burger, basted with their special whiskey barbecue sauce, and the Supreme Home Plate, topped with a fried egg, bacon and American cheese.
Over near Reliant Stadium, the host of numerous rodeo events and the home of the Houston Texans, you'll find Wild Kitchen (832-778-9555) serving up hot wings, burgers, fish and chicken sandwiches, and fried veggies. Meanwhile, Sushi Rock (713-667-7625) offers tasty Japanese fare featuring excellent sushi and hand rolls, plus hot, cold, apple and lychee sakis.