Former Federal Prosecutor Ken Thompson running for Brooklyn District Attorney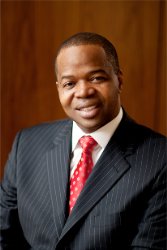 "I think it is overused in Brooklyn, in New York City, but it can be a valuable law enforcement tool if it is used in the right way. Hundreds of thousands of Black and Latino men have been stopped on the streets of New York City, mostly in Brooklyn, who have done nothing wrong, and so clearly, the tactic of stop-and-frisk is not being applied in the correct way.
"We all want guns off the street," he continued. "We all want crime to come down, but it is very, very important to respect the civil rights of people in the community. So I can't sit idly by and remain silent if I become Brooklyn district attorney as Joe Hynes is doing. Hynes says stop-and-frisk is a police decision that's not his concern. I disagree with that. A number of young men are being stopped and frisked without any basis of reasonable suspicion--and they are being told to empty out their pockets, and sometimes they might have small amounts of marijuana on them; and they are brought into the system, and they are being given criminal records--so generations of young men are being wiped out. How are they going to get jobs later? How are they going to go to college? How are they going to take care of their families?"
Emphasizing his point, Thompson said, "I believe when the tool of stop-and-frisk is done wrong, it only undermines the relationship between the police and the community. I believe when you stop-and-frisk innocent people unjustly, it plants seeds of resentment; and the police and the community must be able to work together."
The solution he offers is that "all my [assistant district attorneys] must be trained to thoroughly assess stop-and-frisk cases to make sure that they were based on reasonable suspicion. It can't be based on a hunch."
He quotes the ongoing case of Floyd vs. City of New York, in which Federal Judge Shira Scheindlin asked lawyers for the city, "Why are so many people being stopped because they are suspected as having guns-and no one has any guns?"
Thompson said he would train his staff to know that police have to show what "constitutes reasonable suspicion--that they are armed and dangerous, they see a handle of a gun--to make sure these cases presented to the office are valid. I would work with police officers to make sure they are trained. Judge Scheindlin said that police officers are so poorly trained that they are stopping people first, then trying to determine reasonable suspicion. That is the exact opposite of what the Supreme Court said. So I would work with whoever the new police commissioner is and the Police Department and make sure that people in the community understand what their rights are on stop-and-frisk and what the Supreme Court said.
"That's why we can't afford to have Jo Hynes saliently sitting at his desk on this issue," he added. "The community needs to have leadership in the Brooklyn district attorney's office ... and that's what I intend to give 'em. I intend to support the police when they are right, and support the community at the same time--I don't think they are mutually exclusive."
Hynes' office did not respond to an AmNews request for comment.