Activists rally to stop the closure of Interfaith Medical Center
By D.C. KENE | 6/20/2013, 4:57 p.m. | Updated on 6/25/2013, 4:57 p.m.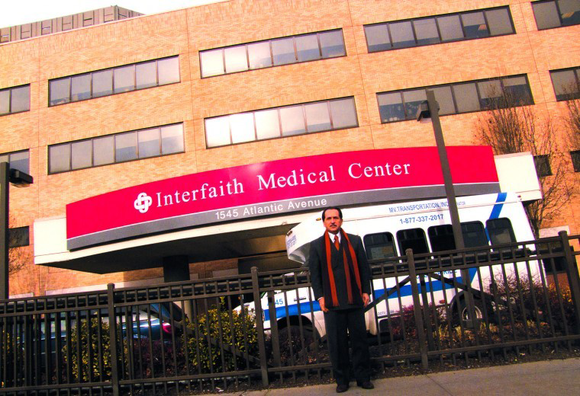 Last Saturday, hundreds marched in central Brooklyn over the precarious future of Interfaith Medical Center.
Nearly 300 were in attendance, as members of New York State Nurses Association (NYSNA) and 1199SEIU United Healthcare Workers East —two of the nation's largest unions and professional associations for registered nurses and health care workers— paraded with "Interfaith Proud" signs in hands. The march began at the intersection of Bedford Avenue and Hancock Street at about 2:30 p.m. and ended an hour later, inside the parking lot of Interfaith Medical Center, with calypso music guiding the marchers in.
The rally, while the most recent, was certainly not the first public act meant to urge state lawmakers to stave off Interfaith's imminent closure by finding room in the budget to keep Interfaith open.
"We are going to do whatever it takes to keep Interfaith Medical Center open for care. Too many Brooklyn patients already can't get the care they need. We need to expand health care in Brooklyn—not cut it," said Jill Furillo, registered nurse and executive director of the NYSNA. "That's why we're calling for a moratorium on all hospital closures and cuts until there's a real assessment of our health care needs."
Despite concerns over the hospital's closure, sources close to the hospital insist that Interfaith's end is not imminent, but a possibility.
"If people are talking about closure, that plan is probably what they're referring to," said Interfaith spokesperson Melissa Krantz. "Interfaith is required by bankruptcy court to create a closure plan."
Eliza Bates, working for NYSNA, had a hand in coordinating the event's publicity. After the rally, she shared with AmNews her thoughts of the event.
"It went well. We had more people than anticipated—so much more that police escorted us and allowed us to walk down Fulton Street. The next action that the public can take is to make calls to New York state Health Commissioner [Nirav] Shah."
According to Bates, the event did what it was supposed to do; it kept the flames of public pressure lit, as Albany decides by July 15 whether to help or let fail central Brooklyn's one and only hospital. Allegedly, Interfaith is set to run out of cash by July 15.
"Last year, Interfaith Medical Center announced their plans to declare bankruptcy if state funding could not be secured and a merger with Brooklyn Hospital was not finalized. Unfortunately, months later, the clock has run out, and Interfaith is in serious danger of closing. It is time for the administration and the Health Department to intervene in order to prevent the closure of this vital Central Brooklyn hospital," said City Council Member Letitia James during the rally.
Meanwhile, as if to illustrate the financial dire straits that the embattled hospital is in, young AmNews reporter Nosayaba Odesanya had to be rushed to the hospital last Saturday night. When she and her family got to the hospital, the front entrance was locked, and they had to go all the way around to the side.