Celebrations of Miles Davis, Vision Festival, 'Blue Monday'
Ron Scott | 6/20/2013, 12:50 p.m.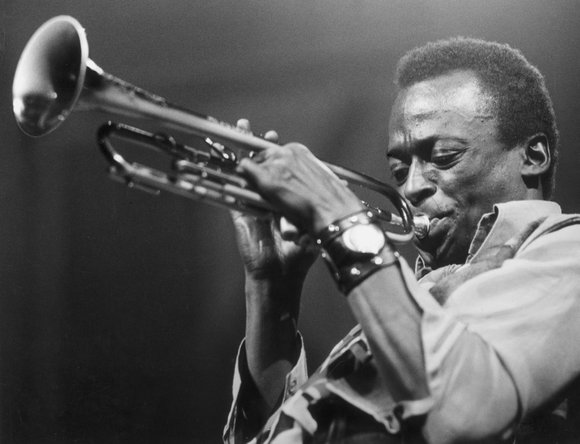 When it comes to creativity, Miles Davis took his music and listeners to higher ground. He kept the music and his innovative concepts moving from bebop to "the birth of the cool," and then straight ahead to fusion ("Bitches Brew," "Tribute to Jack Johnson" and "On the Corner").
Davis lived and hung out on the Upper West Side. It was in the Cellar Restaurant (West 95th Street) that he first saw the drummer Al Foster playing and asked him to join his band.
Last weekend, Foster was once again on the Upper West Side, this time performing the music of Davis along with bassist Buster Williams, pianist Larry Willis (both Davis alumni) and the young guns saxophonist Javon Jackson and trumpeter Jeremy Pelt, who are both making quite a name for themselves as sidemen and bandleaders.
They were performing as the Larry Willis Quintet for the "Dreaming in Blue" Miles Davis Festival, on now through June 30 at the Smoke Jazz and Supper Club (2751 Broadway, between 105th and 106th streets).
"We found there were six degrees of separation from Miles and the musicians we booked at Smoke," said Paul Stache, co-owner of Smoke. "They all seem to have a connection with Miles. We are paying tribute to the Miles Davis tradition and him pushing the envelope."
On June 14-15, the Sonny Fortune Quintet will continue the festival with "Remembering Miles Dewey Davis" (sets at 7 p.m., 9 p.m. and 10:30 p.m.). The saxophonist/flautist Fortune played an integral role in Davis' mid-1970s fusion ensemble appearing on the albums "Big Fun," "Agharta," "Get Up With It" and "Pangaea." As a bandleader, Fortune is a legend in his own right and has also had stints with McCoy Tyner, Mal Waldron and Elvin Jones.
Fortune will be leading his impressive band, which includes trumpeter Kamau Adilifu (formerly Charles Sullivan), pianist Michael Cochrane, bassist David Williams and drummer Steve Johns. This will be Fortune's debut at Smoke.
One trumpeter of note to catch during this festival is Duane Eubanks, who performs on June 19 with his quintet, featuring tenor saxophonist Abraham Burton, bassist Ameen Saleem and drummer Eric McPherson. And making his Smoke debut on June 21-22 is the Freddie Hendrix Quartet under the festival theme "Milestones." Hendrix has toured with the Christian McBride Big Band, Lou Donaldson and Alicia Keys. His band includes tenor saxophonist Abraham Burton, pianist Orrin Evans, bassist Corcoran Holt and drummer Eric McPherson.
"Smoke's Miles Davis Festival ain't corny; it's real," said WBGO radio personality Rob Crocker. For a complete schedule listing and tickets, visit smokejazz.com or call 212-864-6662.
The Vision Festival 18 isn't for the jazz police or purists; it's for those daring souls who are on the edge of their seats waiting to hear something that eclipses the traditional boundaries of jazz.
Be assured that any of the tunes being performed at the Roulette (509 Atlantic Ave., Brooklyn) on June 12-16 at the Vision Festival 18 will not be duplicated by any other band on the four-day program, and if by chance it is, the piece will be so reconstructed or dismantled that it wouldn't matter.