Full speed ahead for John Liu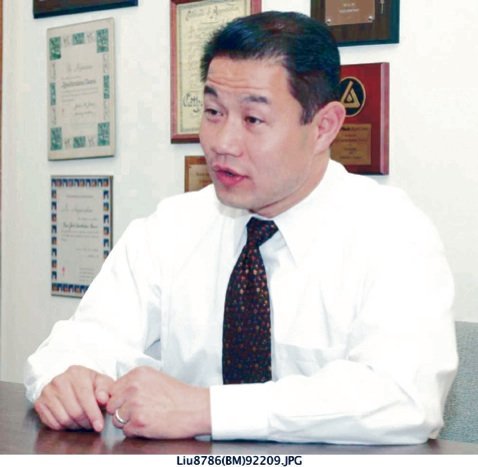 To catch up with City Comptroller John Liu is no easy task, but Mondays are a good time to get a few minutes with a man campaigning for mayor and, on any given day, visiting nearly every borough in New York City.
Seemingly unfazed by the outcome of a recent trial in which his former campaign treasurer, Jia "Jenny" Hou, and a fundraiser, Xing Wu "Oliver" Pan, were found guilty of federal finance crimes, Liu devoted more than an hour from his busy schedule to set the record straight.
"It's full steam ahead," Liu said of his campaign engine after an early breakfast with the Eleanor Roosevelt Democratic Club. "At these events, as well as on the various mayoral candidate forums, I get a chance to get my message out to the people."
One of the consistent messages from Liu is his unwavering and singular stance against the policy of stop, question and frisk. "I pride myself on taking a firm position on this issue and feel it should be removed," he said. He is similarly forthright in his demand that the "Central Park Five," five men unjustly imprisoned for rape, be immediately compensated for the time spent behind bars.
"When it comes to these young men, I think I'm the only one of the current candidates who is clear on this issue, and I am astonished that none of the others have been as firm," Liu continued. Yes, he said, he has taken some flak for supporting the Central Park Five, but he remains implacable.
It is the same unshakable posture he has maintained throughout the four years of relentless investigation-or "so-called investigation," he clarifies-to implicate him in some form of wrongdoing. "They have wiretapped my phone for 18 months, examined countless documents, yet they have come up with zilch," Liu said. "All of this is absolutely unprecedented."
When asked about the possibility of Hou cooperating with the government against him to reduce her sentence that is slated for September, Liu believed that in terms of her loyalty to him, "she's solid as a rock."
"But, in the end, she will do what she has to do," he added.
Liu also feels like he's on solid ground when it comes to obtaining matching funds from the city's Campaign Finance Board despite the conviction of his aides. "I have received more small donations than any of the other candidates," he said. "So I feel we have nothing to worry about when it comes to matching funds."
At the moment, Liu said his campaign's war chest is at $3.5 million, with a similar amount expected from matching funds.
Following his aides' verdict, Liu said he has received a number of calls from labor leaders and everything seems to be OK; all of the attempts to smear him, to broad-brush him with the charges leveled against other elected officials have not tarnished him one bit.
"There's nothing they say about me; the insinuation that I must have known what my aides were doing has left them with nothing," Liu asserted. "My life is an open book and the long, drawn-out process" of trying to incriminate him as been fruitless, he said. "It's either put up or shut up!"