Future of Interfaith in doubt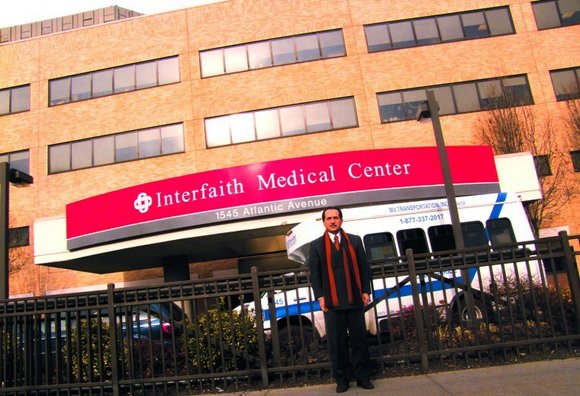 The vitals of Interfaith Medical Center are not looking good. The hospital, which once boasted of 12 satellite care centers nearby; of serving more than half a quarter million patients every year; of taking its care to the streets and helping nearly 44 people every day with its Mobile Crisis Team; and of annual operating earnings that once reached $200 million, has been anything but boastful as of late. Try "broke." Last week, the hospital's lawyers filed for Chapter 11 bankruptcy protection.
"This filing will allow us to restructure our balance sheet, renegotiate some existing agreements and reposition the hospital for long-term viability, strength, success and growth," said Luis A. Hernandez, president and CEO of Interfaith Medical Center.
Interfaith's financial book has been severely in the red. Last year, the hospital sustained a $9.5 million operating loss. The year before that, it took on losses of $55 million.
"The reimbursements we're getting per patient went down drastically," Errol Rayson, a nurse at Interfaith, said in a televised interview. "And we don't get any grants anymore from the state, so we are on our own."
So too may be residents of the surrounding communities, at Crown Heights and Bedford-Stuyvesant. If Interfaith shuts its doors, it would be the second hospital in the area to do so, after St. Mary's in 2007.
Interfaith is one of four remaining hospitals in Central Brooklyn. With just 287 beds, it's one of the smallest, but Interfaith employs over 1,600 people, making it one of the largest employers in Bedford-Stuyvesant and Crown Heights. What's more, no other hospital in New York City takes in as many poor patients.
Its focus on the poor has been a core of Interfaith's mission since it began in 1983 as a privately held joint collaboration between Brooklyn Jewish Hospital and St. John's Episcopal Hospital (the building Interfaith now occupies).
Though Interfaith hospital will not close anytime soon, due to the fact that Chapter 11 processes may take well over a year to conclude, the threat of closure still looms over it.
Officials at Interfaith say they need between $10 million to $30 million to keep threats of closure at bay. However, the threat of closure originated in Albany, and when the very state attacks you, which state agency can you run to for help?
"Unfortunately, our hospital was a victim of New York state's drastic Medicaid reductions in 2010," Hernandez said. "Because the people we serve are predominantly poor and fully 65 percent are dependent on Medicaid or Medicaid-managed care, we have had a unique deleterious financial challenge of being dependent on the state's Medicaid reimbursements."
Since the fall of last year, the hospital has sounded the horn of its cash-strapped status, making noise and sending S.O.S. letters to state officials and Gov. Andrew Cuomo's office for help.
But to little avail. Interfaith's largest creditor, the New York state agency known as the Dormitory Authority, could offer some relief, as owner to $130 million in loans. Yet, it reportedly won't help unless preconditions are met. The Dormitory Authority is a state regulator of government financing. Cuomo, famous for his 2 percent across-the-board cuts, wants desperately to cut state expenditures, and has his eyes on Interfaith merging under the umbrella of the Brooklyn Hospital Center, nearby in Fort Greene.