Harlem Arts Festival host fundraising gala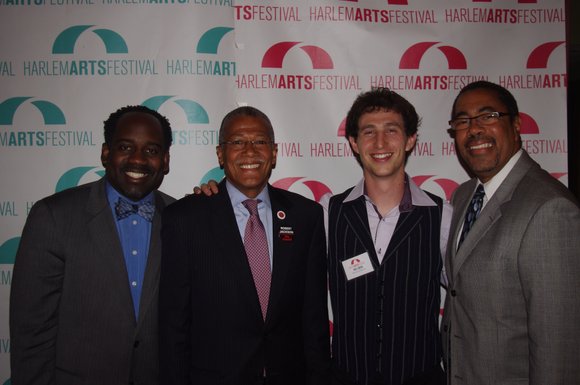 The Harlem Arts Festival (HAF) held its second annual fundraising gala last week at MIST, Harlem's newest cultural entertainment space.
"What the Harlem Arts Festival has done over the last year to showcase a variety of talented artists in Harlem is phenomenal," said Keira Wesley-Busher, the coordinating director at MIST Harlem. "Both of our organizations are new and growing, and this alliance will benefit the artistic community in Harlem and provide a platform for artists to express themselves and be seen by the world."
With the purchase of their tickets, which ranged between $75 and $150, community leaders, politicians, artists and art lovers enjoyed wine, hors d'oeuvres and the opportunity to bid on items in a silent auction.
Attendees were also treated to performances by jazz pianist Kris Bowers, harpist Brandee Younger and dancer/choreographer Jennifer Archibald and her Arch Dance Company. The was followed by a dance party with DJ Jeremiah on the ones and twos; it was full of throbbing bass lines, swinging hips and Afrobeat rhythms.
The fun and laughter did, however, serve a purpose. Proceeds from the fundraiser will help HAF put on its second arts showcase. Last year, the free two-day festival debuted at Marcus Garvey Park and featured over a dozen artists in dance, music, spoken word, theater and more.
HAF Creative Director J.J. El-Far noted that despite facing temperatures that surpassed 100 degrees last year, the festival still brought in more than 1,000 people. "Even in that heat, people still came out to show support. I would definitely call last year's festival a success, and we hope to have more attendees this year," said El-Far.
As with the 2012 event, the 2013 festival is packed with a diverse set of artists who all live in or are inspired by Harlem. Santino Lo, a young artist and producer who lives in Harlem, will be putting on an elaborate, multi-disciplinary show for this year's festival.
"Our work is very site-specific, so my choreographer and I will be creating something that is precisely for the Marcus Garvey Park space. I'm excited and looking forward to sharing our work," said Lo.
Beyond just the fundraiser gala, the partnership between the Harlem Arts Festival and MIST will also bring a new event series to Harlem. The HAF executive committee will be hosting a series of open mic events at MIST.
For more information about the 2013 Harlem Arts Festival (June 29-30), visit www.harlemartsfestival.com.