Harlem Hospital hosts "A Night of Healing" event for violence against women
By AMBER TAFARI LARAQUE | 6/20/2013, 4:50 p.m. | Updated on 6/25/2013, 4:47 p.m.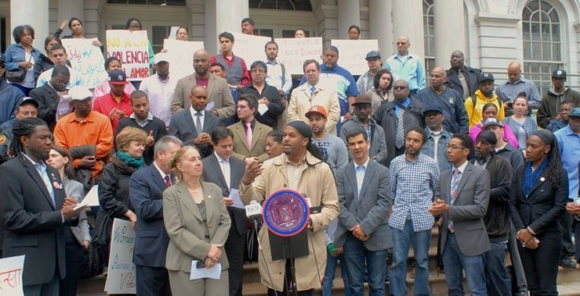 During Women's History Month, close attention gets paid to the issues that affect women on a daily basis. One of the biggest issues women face is domestic violence—a difficult issue to tackle when not understood.
Domestic violence awareness group We All Really Matter (WARM) and the Brahma Kumaris World Spiritual Organization brought together delegates of the United Nations Commission on the Status of Women and members of the Harlem community to educate and be educated about violence against women, as well as discuss changes that need to be made.
The event, "A Night of Healing: Discovering Our Inner Strength and Courage," was held in the Herbert Cave Auditorium at Harlem Hospital on March 13. Many women, as well as men, were in attendance to hear and share experiences about domestic violence.
The panel of speakers included Harlem Hospital Center's Chief of Psychology Dr. Cynthia Grace; Marianne Lizana Moreno, psychologist and professor at Latina University and San Marcos University; Juan Jesus Vasquez Milling, homeopath and intern at the Montreal Institute of Classic Homeopathy in Canada and Mexican refugee of domestic violence; Jill Shanti, community developer and founder of Out the Door Inc. in Australia; and Carl Murrell, U.N. representative, National Spiritual Assembly of the Baha'i's of the United States. NY1 News journalist Cheryl Wills moderated the discussion.
The night began with a welcome from WARM founder Stephanie McGraw and Executive Director of Harlem Hospital Center's Renaissance Health Care Network Denise Soares, RN, MA. Renee McRae continued the gathering uplifting women through her poetry.
Each member of the panel had their own experience and expertise to share. Shanti, a survivor of domestic abuse and a native of Australia, said it took her a long time to leave her abuser because she had become accustomed to it.
"I didn't know I had a chance because violence was my norm," she said.
A former sex slave, Rachel said breaking that norm is all about mentality. "It's not possible to move beyond a damaging situation unless you believe you deserve to be in a better place," she said.
The men on the panel also had their own knowledge to bring to the forum. "It's very important that men are actually involved in this movement," said Milling, whose mother had been abused by his father in Mexico. He and his mother were able to seek refuge and move to Canada.
Murrell made it clear that the issue goes beyond violence against women. "You can't extract men's violence against women from violence in society as a whole," he said.
The purpose of the forum was not only to discuss domestic abuse, but to begin a healing process through discussion. Domestic violence is not just physical, but mental as well. Grace and Moreno, both psychologists, discussed the importance of healing.
Moreno said women need to meditate and take time for their mind, but she realizes that it is not always an easy thing to do. "We don't know how to take time because we are always serving others."