Hispanic fashion designer Altos De Chavon features latest work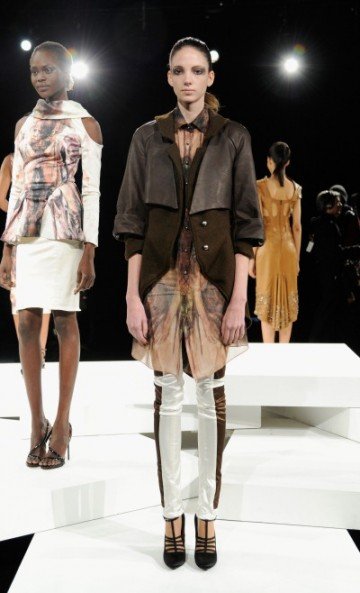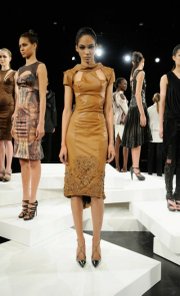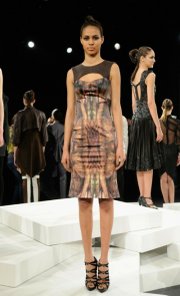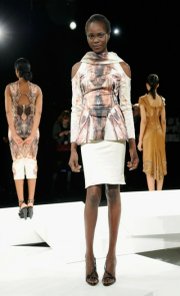 Even though this was a still presentation, the models and clothes in Hernan Lander's showing at Lincoln Center for fall created a stir.
His journey began at Altos De Chavon in the Dominican Republic, where he was recognized with both the Silver and Amber Thimble awards. The tribute led to his receiving a full scholarship at Parsons School of Design in New York City. While studying, he worked for several American designers and even collaborated with a few. After graduation, he worked with Donna Karan and then decided to create his own contemporary line. In this show, he exhibited a wonderful talent for style, color, fabric-mixing and quality craftsmanship.
His collection includes unique yet wearable clothes, pieces that can mix and match. His attention to detail is amazing. His look resembles some patchworks from the '70s in 2013 shapes. His lengths vary with above- and below-the-knee hits. For some garments, there seem to be several different fabric cuts from every angle, yet Lander has managed to create a unified style that symbolizes his fall story.
His skirts, jackets and dresses fit the body. Pants are tapered. His pieces work well together, especially when you're putting together that special outfit. You certainly will not see yourself coming and going in his pieces.
For evening, his cuts continued, but bareness replaced fabrics in a print or color. His clothes have been spotted on Ashanti, Toni Braxton, Olivia Munn, Miss Universe, Miss USA and Miss Dominican Republic. His clothes have also been featured in several videos of the Valkyrias and Melanie Fiona. Keep an eye out for this young, new designer.