Noted author and master teacher Dr. Barbara E. Adams passes at 74
Herb Boyd | 6/20/2013, 12:10 p.m. | Updated on 6/25/2013, 1:38 p.m.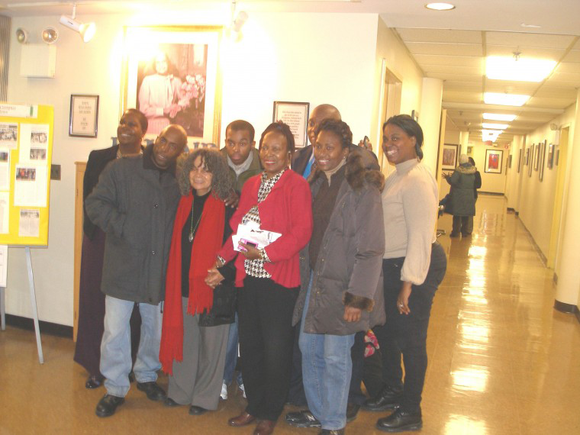 In the foreword to Dr. Barbara Eleanor Adams' biography of Dr. John Henrik Clarke, Dr. Leonard Jeffries wrote, "Professor Adams has been inspired by Dr. Clarke and has refashioned her life to reflect his influence."
That influence was invoked time and time again by her friends and associates Last Wednesday, June 12th at her funeral service at Convent Avenue Baptist Church. Adams joined the ancestors on May 21 after a brief illness. She was 74.
Unlike her long and productive academic life, her homegoing service was relatively short but effective in presenting the sweep of her contributions in education, community activism and in the raising of three wonderful children.
"She was a woman of great creativity," recalled the Rev. Brenda Price, delivering the eulogy. "Her legacy will outlive my eulogy, and that's a good thing."
Dr. Anthony Browne, one of her many colleagues that assembled at the church, remembered her as "a very complex person … but she lived a full life."
That full life was lovingly showcased in photos and a lengthy bio in the funeral program.
Adams was born Feb. 27, 1939, in New York City. Her father, Abdallah, was from Ghana and her mother, Viola, was from Guyana. Thus, from her inception, an internationalist stamp was evident, and she built upon this auspicious beginning with global travels, accumulating the kind of information that informed her lectures and guided her considerable intelligence and leadership.
She attended City College of New York, but matriculation at Rhodes Preparatory School and her subsequent graduation prepared her well for Illinois State University at Norman, where she met Gilbert Rose, whom she later married in 1961. Despite the challenge of raising three children, she ventured off to the graduate school at Hunter College—during this stint, she also moonlighted as a cabdriver—and later earned her doctorate in African-American studies from Temple University.
Teaching was always an ultimate goal for Adams, but there was also a significant phase at the New York Urban League from 1987-1998, when she was the Manhattan borough director and director of the AIDS Network. Before arriving at the College of New Rochelle, she taught at Malcolm King College, Hostos Community College and Touro College as an adjunct professor.
There was a sizable contingent of faculty and staff from the College of New Rochelle at the funeral. At the Rosa Parks campus of the college, Adams was most remembered as campus director.
"The College of New Rochelle's School of New Resources' Rosa Parks Campus, located on 125th Street in Harlem, was the beneficiary of this dedicated educator's loyalty to her students and the mission of the college," said Elza Dinwiddie-Boyd, retired dean of the School of New Resources. "Her commitment to the transforming empowerment of education was matched only by her love of Harlem. As a member of the faculty and as campus director, Dr. Adams was indefatigable in her staunch devotion to the students and staff of the Rosa Parks campus. Responding to her leadership, many graduates went on to pursue advanced degrees. I think I speak for CNR when I say that we are thankful that Dr. Barbara Adams was one among us."