NYC's legal workers strike continues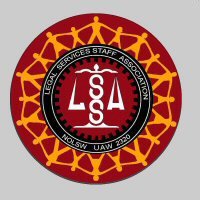 Citing unfair and unjust practices in the workplace, the city's legal workers decided to go on strike last month. The Legal Services Staff Association (LSSA) and NOLSW/UAW Local 2320 opted to go on strike on May 15 after voting to reject offers of a new contract with the management of Legal Services NYC (LSNYC), the legal assistance group that specializes in dealing with low-income communities. It's the first strike by the city's legal workers in 20 years.
Gibb Surette, a spokesperson for the LSSA, kept the AmNews abreast of the union's activities this week.
"We have a large demonstration in front of the central office this morning," Surette told the AmNews Tuesday, "and another in front of the office where the board chair works this afternoon. We are meeting with management's bargaining again tomorrow."
"Maintaining high quality legal services for our clients is of chief concern for us," said Sonja Shield, an attorney with LSNYC's Brooklyn office, in a statement after negotiations. "We want to gain the experience to ensure that we are the most effective advocates for social justice. That is simply not possible if we are unable to pursue sustainable careers in direct legal services."
As expected, the largest provider for civil legal services for low-income residents in the country has had to limit its intake of new clients over the past month.
The LSSA represents secretaries, paralegals, receptionists, process servers, social workers, attorneys and other non-management employees. The members largely serve low-income families and the elderly of New York City in civil legal matters like housing, domestic violence, public benefits, immigration, education, family, community economic development, HIV/AIDS and mental health. UAW Local 2320 represents union "justice workers" as well.
Back in April, about 200 unionized employees from LSNYC participated in a half-day strike to demonstrate solidarity to changes in their contract by LSNYC that workers felt were "draconian."
Members of LSSA have been presented with a list of giveback demands that union leaders say resemble the same type of proposals that resulted in the Con Edison and Verizon strikes. LSNYC board, led by Joseph Genova of Milbank, Tweed, Hadley and McCloy LLP and Michael Young of JAMS, demanded a three-year contract with no inflation-based cost of living adjustments and a giveback of two years of seniority from every employee for purposes of placement on the salary scale.
The demands also included proposed cuts to health care coverage, the reduction of contributions to the 403b plan (the 401k for nonprofit organizations) and reduced sick and annual leave.
According to LSSA, LSNYC has refused to address issues like the management-to-staff ratio "far in excess" of the Legal Aid Society, where only about half of LSNYC's budget pays for front-line personnel.
Despite the fight, striking workers have support from other outlets as well. The New York chapter of the National Lawyers Guild addressed a letter to the LSNYC board expressing support for labor.
"The chapter urges the management of Legal Services NYC to immediately negotiate a fair contract with its staff. The current offer that was unacceptable to LSNYC staff fails to address key issues, including the ratio of management to staff," read the letter. "Currently, Legal Services NYC has a ratio of one manager to every three bargaining unit employees, a seemingly wasteful ratio compared with the Legal Aid Society, which operates with one manager for every five employees.