NYC's legal workers strike continues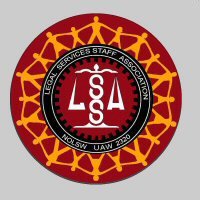 "Failing to address the issue of ratios, LSNYC instead attempts to slash health care benefits, virtually eliminating fertility treatments--a vitally needed service for couples trying to create a family," the letter continued. "LSNYC also goes after 403b retirement benefits, seeking to cut them by 29 percent. For an organization that already offers its employees no pension, such cuts to retirement benefits are unpalatable."
While there has been cautious optimism among the workers during the on-and-off negotiations over the past several weeks, Surette told the AmNews that he's keeping positive feelings at bay.
"There's been movement, although the last response we got from management was pretty disappointing," said Surette. "It was pretty disappointing in general, but in regards to whether the jobs that would be saved by unprecedented concessions will include out jobs, they said they'd agree to no layoffs during the period we weren't projecting layoffs anyway. So we haven't made a formal response to that yet.
"If they continue in that vein," said Surette, "the strike is unlikely to be as short as we want it to be." However, that doesn't mean the workers have completely kept their spirits down.
"Morale among the members is quite high and our employer keep finding new ways to refresh people's anger," said Surette. "There's an old saying in the labor movement, 'The boss is your best organizer.' This set of bosses certainly has proven that."
For now, however, thousands of low-income New Yorkers won't have access to much-needed civil legal services.