The Great, rainy Googa Mooga festival in Brooklyn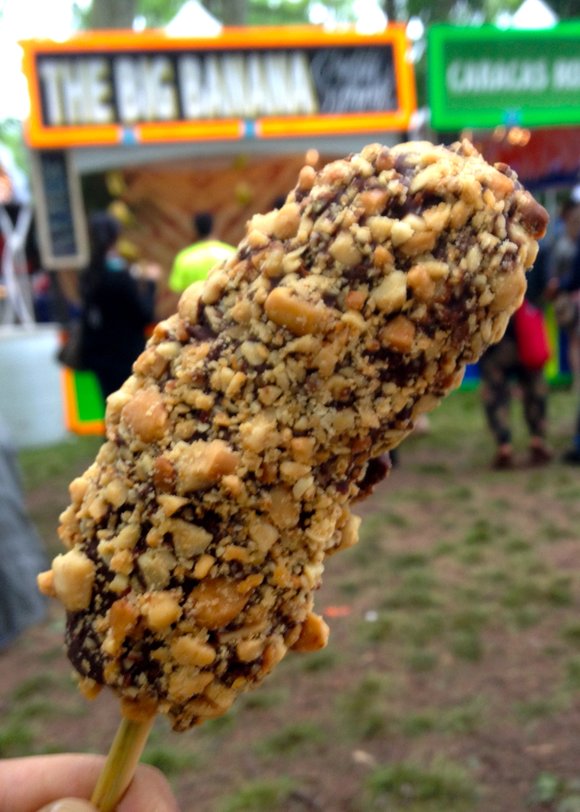 Albeit under cover of rain, I finally made it to the Great Googa Mooga in Prospect Park, Brooklyn! Only in its second year, the festival has become a sell-out hit amongst food revelers, indie music addicts and everyone in between. It was a little bit of a hike from Harlem but totally worth the trip.
Much like the name, the festival is quirky, unique and fun. After checking in and receiving a map (of sorts) of where one finds food, music, beer and wine, I was off. I was mostly looking forward to the first two, as drinking alone, even amongst thousands, is not a good look.
Making my way into the festival, I passed by a serene pond. On the other side was the Nethermead Boathouse with a smattering of guests enjoying the VIP Cocktail Experience as if in a scene out of a French painter's canvas. Its counterpoint was just down the path in the form of one of the three pop-up concepts, Roberta's Urban Ren Faire. The dope Bushwick pizza spot fashioned a mini renaissance festival in the festival, complete with costumes and LARPing! I pressed forward ...
As a food curator for my clients, I decided to curate my Googa Mooga food experience. Though I was starving--I made sure I didn't eat anything to spoil my appetite!--I slowly walked around the festival first, taking note of the offerings, which ranged in price from $7-15, before making a final decision. I did have one target that needed to "get got," but in due time.
Yes, it all looked good, but I decided that my meal must be unique and include dishes from places I had never eaten before. Don't get me wrong, I was super enticed by the lot of them, but it came down to four items that sealed the deal.
My appetizer was from James Restaurant. It was a gorgeously seasoned and thinly enrobed duck sausage corndog with a delicate chili sauce. Wicked! That woke up my palate and will have me eating there on the regular.
Now corndog fortified, I was ready for my main course and target, Umami Burger. With laser vision, I spotted its location and waited in line for their truffle burger--a perfectly cooked medium-rare signature beef patty with housemade truffle cheese and truffle glaze on a warm, soft brioche bun. (Dropping the microphone ...) I'm done! Can't wait for the New York City openings!
Now my sweet tooth was talking to me. Tempted by many options, including a Baked brownie layered with salted caramel, I returned to my weakness and one of the first vendors I saw, the Big Banana. Salty was her name and double-dipped (I think) dark chocolate frozen banana with peanuts and sea salt was her game. Thank you!
But before I could crack open the cellophane wrapper of my dessert, a neighboring savory vendor was tickling my olfactory nerve. It was Japanese-style wings from Kasadela. These twice-fried then marinated wings were crisp, sweet and black pepper spicy. I only bought two as an intermezzo before dessert. Those made me want a beer, but I digress.