Year in review: July - December
6/20/2013, 10:56 a.m.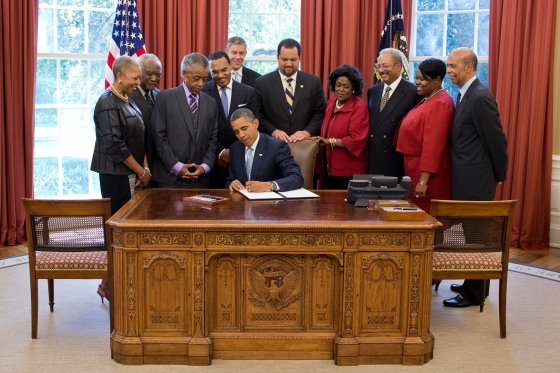 August
A disturbing trend strikes Harlem as several Black-owned small businesses close their doors, including Harlem Lanes, Nectar Wine Bar and MoBay restaurant.
New York City Housing Authority (NYCHA) Chair John Rhea and other board members are criticized for "sitting" on $1 billion that is needed for repairs in NYCHA buildings. He quickly disputes the claims.
A report released by the Community Service Society reveals that Blacks, especially women and the elderly, suffer from long-term unemployment in the city more than any other group.
Romney chooses 42-year-old Wisconsin Rep. Paul Ryan as his running mate.
In response to the increase in violence in the city, the Rev. Al Sharpton's National Action Network begins the "Occupy the Corner" campaign, which places community residents on corners for several weekend night in areas known for violence.
A report released by the advocacy group Picture the Homeless states that the number of people going to shelters has increased by 18 percent in the past year.
Republican Senate candidate Rep. Todd Atkins of Missouri says in an interview when asked about abortion that women who are victims of "legitimate rape" have the ability to not become pregnant as a result.
Jeffrey T. Johnson, 58, fatally shoots his co-worker, 41-year-old Steven Ercolino, outside of the Empire State Building in broad daylight, causing mayhem in Midtown.
Fans flock to movie theaters to see the late Whitney Houston in her final role when the remake of the film "Sparkle" opens.
White supremacist Wade Michael Page opens fire at a Sikh temple in Wisconsin, killing seven, including a responding police officer, and wounding four before committing suicide.
Lynette Velasco, political consultant and spokeswoman for City Council Member Inez Dickens, passes. Assemblyman Vito Lopez is censured after sexually harassing two female staffers. As a result, he is removed as chair of the Committee on Housing, stripped of all seniority, given a reduced staff allotment and forbidden from employing any interns or persons under the age of 21.
Harlem soul food restaurant pioneer Calvin Copeland passes at age 87.
September
Revelers line Brooklyn's Eastern Parkway for the West Indian American Day Parade on Labor Day.
The Democratic National Convention is held in Charlotte, N.C., where Obama is officially nominated as the presidential candidate for the Democratic Party.
Major construction projects continue across Harlem, including the building of a four-story 100,000-square-foot building on 125th Street and Frederick Douglass Boulevard that will house a DSW, Blink Fitness and Joe's Crab Shack restaurant.
Academy Award-nominated actor Michael Clarke Duncan dies at age 54.
As Assemblyman Lopez steps down as the leader of Kings County Democratic Committee due to scandal, Frank Seddio is selected, bypassing several eligible Black candidates.
The U.S. Embassy in Cairo, Egypt, and the Consulate in Benghazi, Libya, are attacked by terrorists, who kill Ambassador J. Christopher Stevens, two U.S. Marines and one other American in Benghazi.
The nation stops to remember those lost during the 11th anniversary of the 9/11 attacks.
This year's ceremony at Ground Zero is scaled back as no politicians speak and only the names of those who perished are read.
In Chicago, teachers strike for over a week, asking for pay raises and better conditions. The strike leaves 400,000 students out of school. The 43rd annual African American Day Parade is held in Harlem.
After several years in Harlem's Morningside Park, the long-running event "Sundae Sermon" moves. The summer series, which draws hundreds of people to the park for music from top DJs on Sundays, is moved to St. Nicholas Park by the Parks Department.
Attorney Joseph Fleming dies at age 61.
As the presidential race heats up, the Republican Party candidate, Romney, is secretly taped stating at a private event that 47 percent of Americans are "dependent on government."
The U.S. Census reports that one in six New Yorkers are living below the poverty line.
Primary elections are held for state Senate and Assembly. Standout winners include City Councilman James Sander Jr., who defeated state. Sen. Shirley Huntley.
Vocalist Wolf "Thunder" Johnson dies. Minister Louis Farrakhan visits the city, making stops in Harlem, Brownsville, Bed-Stuy, Queens and the Bronx.
The new Barclays Center area in Brooklyn opens with a series of concerts featuring Jay-Z. To highlight gun violence in the community, several community groups bring caskets outside of the venue. The arena, which was built with much controversy in the neighborhood, is the home of the new NBA team the Brooklyn Nets.
Actress, author and professor Dr. Dorothy Carter passes at age 94.