Activists rally to stop the closure of Interfaith Medical Center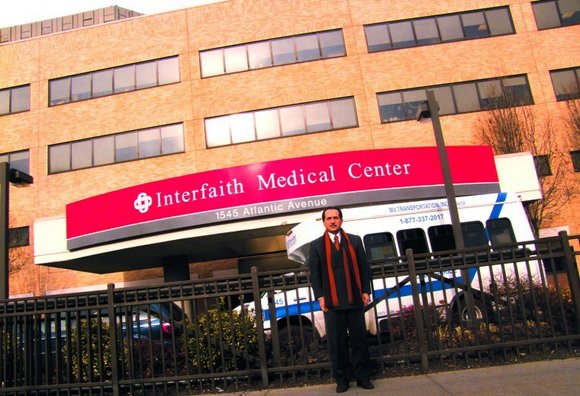 "I had an accident with glass that left me with a gash in my leg," said Odesanya. "My mom and I rushed to the closest hospital, which was Interfaith on Atlantic Avenue in Brooklyn.
"It was around 9p.m. ... The minute I got in there, the nurse bandaged me up to stop all the bleeding. My mom signed me in and the nurse took me to a bed in a wheelchair. All the beds were full, though. We had to wait a while."
It was not until after mindnight that Odesanya had an X-ray, and she was not fully treated until after 2:30 a.m.
Even though the ordeal was long and arduous, Odesanya said, "I have to go back to take out the stitches; I'm not worried since I know Interfaith will take care of me. Even though patients have to wait a long time to be seen sometimes, and the doctors and nurses are very stretched, Interfaith should not be shut down. The community needs it. People need it for emergencies and health services. There needs to be more money for them, because they need more people to work there, especially at night."
Lawmakers in support of the rally and decision to keep Interfaith alive and expand its funding include New York City Council Speaker Christine Quinn; City Council Members Letitia James, Albert Vann, Darlene Mealy, Mathieu Eugene and Charles Barron; Assemblywoman Annette Robinson; Brooklyn Borough President Marty Markowitz; Rep. Hakeem Jeffries; and state Sen. Eric Adams. Robinson and Jeffries were just two of the nearly 700 federal and state lawmakers who get to decide on this issue in any meaningful way.
One may wonder where Gov. Andrew Cuomo currently stands on the hospital closure, as July 15 soon approaches. Cuomo has been in favor of Interfaith's merger with Brooklyn Hospital. But, in recent weeks, the merger process has seemingly stalled. Cuomo did not respond to an AmNews request for comment.