Frederick Douglass stands tall in Congress' Emancipation Hall
6/21/2013, 6:11 a.m.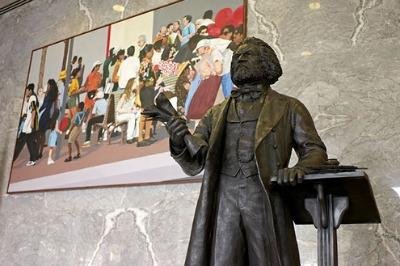 Slave-turned-abolitionist Frederick Douglass now has a bronze statue in the U.S. Capitol's Emancipation Hall.
The 7-foot tall, 1,700-pound statue depicts Douglass in his 50s giving a speech, paper grasped in one hand, the other resting upon a lectern with quill and ink.
Etched in the bottom of the statue is a quote, "Without struggle, there is no progress," from an 1857 speech he delivered in Canandaigua, N.Y.
The statue was unveiled on June 19 as part of the commemoration of Juneteenth, the day in 1865 when the last slaves learned they had been declared free.
Nettie Washington Douglass, Frederick Douglass' great-great-granddaughter, spoke before a crowd of 600 visitors that included 4th District U.S. Rep. Hank Johnson and other congressional leaders, relatives, current and former city officials, civil rights activists, and historians.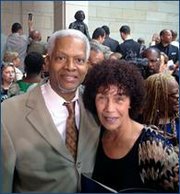 "I hold so closely to my heart the spirit of the man that I am lucky enough to call my great-great-grandfather," she said. "And though I cling tightly, he is not mine alone. Frederick Douglass gave his spirit as a birthright to all of us."
Washington Douglass is founder and chairwoman of anti-human trafficking organization Frederick Douglass Family Initiatives.
Johnson called Frederick Douglass a lion among men – a pillar of civil rights, freedom and equality. He said his struggle for freedom, ­and rise from slavery to one of the nation's most revered citizens, is a lesson for us all.
"Mr. Douglass now takes his rightful place in the pantheon of American legends that line this hall of honor," Johnson said.
Douglass was born into slavery in Talbot County, Md., around February 1818. He learned to read and write from his master's wife and later by observing children in his Baltimore neighborhood. In 1838, when he was 20 years old, he escaped and fled to New York and founded the antislavery newspaper The North Star and fought for women's suffrage. In 1845, he wrote a memoir, "Narrative of the Life of Frederick Douglass, an American Slave," which became a best seller and an influential abolitionist text. He spent the last 23 years of his life in Washington, where he died at age 77. He was buried in Rochester, where he lived for 25 years.
During his time in Washington, Douglass pressed President Abraham Lincoln to end slavery and endorse voting rights for black Americans. He served as a U.S. marshal and register of deeds and in 1872 became the first African-American nominated for vice president.
Other African-Americans honored with a statue or a bust in the Capitol are Sojourner Truth, Rosa Parks, and Dr. Martin Luther King Jr.
Douglass' statue was commissioned by the D.C. Commission on the Arts and Humanities and completed by Maryland artist Steve Weitzman. Emancipation Hall honors slave laborers who built the Capitol.
Douglass' D.C. home, at 1411 W St. S.E. in Anacostia, is a national historic site.