Free HIV testing at 'Healing Stigma' events around DeKalb
6/21/2013, 6:12 a.m.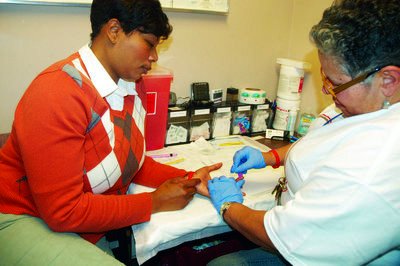 DeKALB COUNTY — DeKalb residents can check their HIV status at free "Healing Stigma" events on June 27 sponsored by local health agencies, service organizations and pharmacies.
The events across the county are part of National HIV Testing Day, which encourages early diagnosis and treatment to save lives and reduce the spread of HIV.
State health officials say HIV-positive people who take their medication regularly reduce the risk of transmission to sexual partners by as much as 96 percent.
Of Georgia's 18 public health districts, DeKalb County has the second-highest rate of people living with HIV/AIDS, behind Fulton County.
Of more than 1.1 million people living with HIV in the United States, nearly 250,000, an estimated one in five, are unaware of their condition. One-third of those who are positive are diagnosed so late in the course of their infection they develop AIDS within one year.
The national Centers for Disease Control and Prevention encourages everyone to know their status so that they can take greater precautions to protect themselves and their loved ones.
The CDC recommends that health care providers test everyone between the ages of 13 and 64 at least once as part of routine health care unless the patient declines.
More frequent testing is recommended for those at higher risk, including gay and bisexual men, for which testing is suggested every three to six months or with a new partner.
HIV testing also is recommended for all pregnant women as a routine part of prenatal care.
The 2010 Status of Health in DeKalb report shows that 1,821 newly diagnosed HIV/AIDS cases, a 62 percent increase, were reported between 2004 and 2007.

The highest incidence was among adults ages 25 to 34. Seventy-six percent of the new HIV/AIDS cases were among African-Americans. Whites represented 18 percent, and Hispanics and other races represented 5 percent.
Both males and females in DeKalb become infected with HIV most often through sex with an HIV-positive male.
For free testing, visit these events:
The DeKalb Community Service Board and the National Coalition of 100 Black Women Stone Mountain-Lithonia Chapter are partnering to sponsor free HIV testing and a community health fair on June 27 at the DeKalb Addiction Clinic, 455 Winn Way in Decatur.
Finger prick HIV testing will be conducted from 8:30 a.m. to 7 p.m. for anyone ages 17 or older. Results will be available within 20 minutes.
A community health fair starts at 9 a.m. Free lunch will be served starting at 11 a.m. For more information, contact Margaret Renfroe, DeKalb CSB's HIV Risk Reduction counselor, at 404-508-6430.


The DeKalb Board of Health's June 27 HIV testing event takes place 10 a.m. to 7:30 p.m. at the 285 Flea Market, 4525 Glenwood Road in Decatur.
It includes STI education, free condoms, and blood pressure and blood glucose checks. For more information, call 404-370-7360.


Walgreens and Greater Than AIDS are teaming with the Georgia Department of Public Health and local health departments and AIDS service organizations to provide free HIV testing June 27-28 from 3 to 7 p.m. at three DeKalb stores, including its 2035 Candler Road location in Decatur.
The other participating stores are 2320 N. Druid Hills Road N.E. in Atlanta and 2675 N. Decatur Road in Decatur. They are among 175 Walgreens stores in 54 cities and 22 states across the nation offering the free screenings, which also take place June 29 from 9 a.m. to 2 p.m.
For more information, including a complete list of participating Walgreens, visit www.greaterthan.org/walgreens.


The nonprofit STAND Inc. will present an evening of gospel music, free HIV testing, and education on June 26 at the Maloof Auditorium in Decatur in observance of the eighth annual National HIV Testing Day.
The 7 p.m. program, which is free, features the Gospel Music Workshop of America Inc.-Atlanta Chapter. The Maloof Auditorium is at 1300 Commerce Drive.
STAND Inc. also will offer free tests on June 27 during its regular testing hours, 8:30 a.m. to 4:30 p.m., at 3423 Covington Drive, Suite D, in Decatur.
For more information, call Raymond R. Duke at 404-284-9878 or visit www.standinc.com.


To find an HIV/STD test site 24/7, visit www.hivtest.org or text your ZIP code to "KNOWIT" (566948). For more facts, information and resources, visit http://aids.gov/hiv-aids-basics.