Noted author and master teacher Dr. Barbara E. Adams passes at 74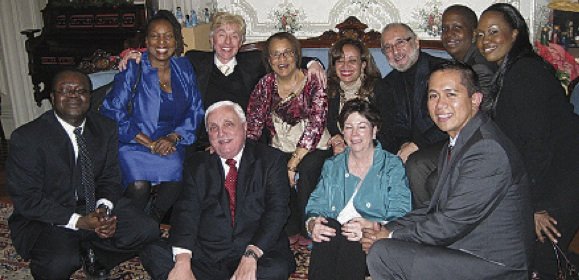 Her productive odyssey was also recalled by her longtime friend Claudia Hurst and the Rev. John Scott. "We first met at City College in an English class," Hurst recalled, "and we became close friends. We went through a lot together."
Scott said Adams was "purely professional," noting her unstinting work and commitment to helping him complete his book. "And thankfully, we finished the book just before she passed."
Still to be completed is the work she was doing on the life of Jeffries, along with a number of other projects on her demanding agenda.
"She was a great grandmother," said her grandson, Jason Scantlebury, reading from a prepared statement.
Adams' daughter Timitra said her mother's story was one "of courage and resilience. She set high goals for herself and high standards for others."
Those high standards were applied to all who came within her embrace, including the Rev. James Logan, executive minister at Convent Avenue Baptist, who presided over the services. "I was thrilled when she asked me to teach a course at the College of New Rochelle," he said. "Her living will not be in vain."
Adams leaves her daughters, Gyl-Maria Rose Batholomew and Timitra Rose; her son, Wesley Rose; and grandchildren, Ezekiel Rose, Jahsira Dunbar, Jason Scantlebury, Zola Rose and Patricia Tilley.
She was interred at Woodlawn Cemetery in the Bronx.