Avant: Why There's No Reality TV in His Future
Souleo | 3/6/2013, 12:02 p.m.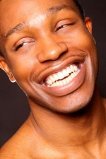 In order to move forward R&B singer-songwriter, Avant had to go back to the sounds of Marvin Gaye, Luther Vandross and Kenny "Babyface" Edmonds where he found inspiration for his latest album,Face the Music. "I sat back and paid attention to how their music made me feel," he says. "It made me feel special. I didn't feel angry or over aggressive like some of today's music. So I want to give that feeling back from the old school and bring it into a 2013 format."In his efforts to update the classic sound of his musical influences,Avant reunited with his duet partner, Keke Wyatt on the passionate single, "You & I." Although he appeared on an episode of Wyatt's "R&B Divas" reality TV show, don't expect him to further pursue such opportunities. Avant prefers an element of mystery and is only willing to reveal his personal stories through his music. "I try to keep it as private as possible and they keep telling me to open up. But with artists back in the day you didn't always hear from them and it made you want to buy the record more. Now it's so personal and it's all about the image but I still wouldn't do a reality show."Before reality TV was giving the public inside access to the lives of celebrities there was veteran entertainment journalist, Flo Anthony. This past Monday Anthony celebrated her birthday at Native Restaurant with an intimate group of friends including noted theatrical press agent, Irene Gandy and private chef, LorenLocke. It was an evening of great conversation, laughter and reflection as Anthonyshared her thoughts on living past 50. "My dad only lived to 54. So I was always worried I wouldn't make it much past that because his family had a history of dying early. So I am grateful to be alive at this age." Anthony is also excited about her forthcoming book release,Deadly Stuff Players which arrives on November 19 via national bestselling author Zane's Strebor Books/Simon and Schuster.You can help your business come alive next week as Project Enterprise launches Entrepreneur Week with a range of events including: a keynote address from Lowell Hawthorne, CEO of Golden Krust Caribbean Grill on March 11; a panel featuring the industry's hottest game changers in rising sectors (full disclosure: writer moderates this event) on March 12; a crowdfunding workshop for the Spanish speaking population on March 13 and much more. Project Enterpriseexecutive director, Catherine Barnett believes that the events will be particularly informative for those in the arts and culture industry. "Turning a craft into a business is certainly a growing trend, in addition to self-funding these ventures," she says. "Learning about general business trends and topics can only help artists apply these tools to their own endeavors." A group of artists that is serving as a solid model of entrepreneurship is the Washington Sculptors Group (WSG). The WSG Board of Directors and volunteer committees, along with its nearly 350 members produce exhibitions, workshops, seminars and social events for its members. This past Friday they premiered their latest exhibition, SculptureNow 2013 at Honfleur Gallery located in Anacostia, a neighborhood inWashington D.C. The captivating exhibition features an impressive and diverse selection of sculpture work by artists including Todd Fry(winner of the Tom Rooney Prize for Excellence in Sculpture),Madeline Smith, Chris Bathgate, Harlem native Beau McCall and more. The exhibition's curator, Florcy Morisset explained her theme of futurism as tapping into the historical significance of the word through a selection of purposeful art. "Futurism dates back to the 1900s art movement that began in Italy. It was about repurposing media and product that changes content," she notes. "I pushed myself to find pieces that have history with the theme of life. These pieces all do have a story."At the Honfleur Gallery there was another story being told too and that is one of a parallel between Anacostia and Harlem. Both are rapidly gentrifying communities seeking to rebrand themselves as they emerge from a period of socioeconomic disadvantages. Social media and blogs are key tools that creative director, Beth Ferraro has encouraged the use of to demonstrate the viability of Anacostia's arts and culture community. "In the last year more neighborhood blogs are coming up for people to have their own voice and we have created hashtags such as 'Why I love Anacostia' that are really encouraging."Nikki Peele, director of marketing believes that engaging in a dialogue directly with naysayers is also essential. "I will search our neighborhood name and see people write negative things and reply back. I'll ask them what's so scary. When you address these things they mostly drop back because they don't expect someone to respond. You have to address the stigma head on."And there you have it; from facing the music with Avant to facing the truth about arts and culture communities from Anacostia to Harlem.****The Harlem Arts Alliance is a not for profit arts service organization celebrating 10 years of service to a prestigious list of members such as the Apollo Theater, the Greater Harlem Chamber of Commerce, Columbia University, Harlem Stage (Aaron Davis Hall) and over 850 more cultural/arts institutions and individuals. The weekly column, Harlem Arts Alliance Presents: On the "A" w/Souleo, covers the intersection of the arts, culture and entertainment scene in Harlem and beyond and is written by Souleo, founder and president of event/media content production company, Souleo Enterprises, LLC.