Manhattan Borough President Scott Stringer hosts eighth annual Trailblazers
3/7/2013, 4:40 p.m.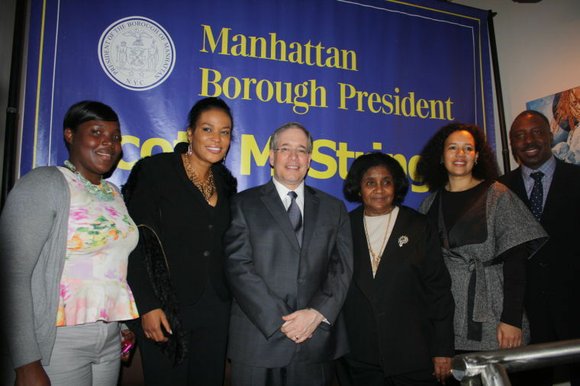 Recently at Chocolat Restaurant and Lounge in Harlem, Manhattan Borough President Scott Stringer held his eighth annual Trailblazers program and ceremony in honor of Black History Month. This year, honorees included Beverly Bond, founder and director of Black Girls Rock!; Gregory Floyd, president, of Teamsters Local 237; L. Ann Rocker, CEO of North River Community Environmental Review Board (NRCERB); and Elinor Tatum, publisher and editor-in-chief of the Amsterdam News.
"February is the birth month of both Abraham Lincoln and Frederick Douglass; it's the 150th anniversary of the Emancipation Proclamation and the 50th anniversary of the March on Washington. We honor that legacy tonight," said Stringer. "The four inspiring individuals that we honor tonight are keeping the spirit of righteousness alive through their contributions to the community. Each and every one of these honorees is on the forefront of the fight for a safer, cleaner and more just city for the next generation of New Yorkers."