Michelle Fleet: A lifetime of dance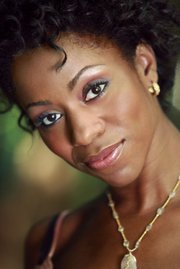 Michelle Fleet is simply a standout dancer and a standout person. Fleet, along with other members of the Paul Taylor Dance Company, returns to the David H. Koch Theater at Lincoln Center on March 5 with the premiere of Taylor's 138th dance, "Perpetual" Dawn, and a host of revivals.
Amsterdam News: From where you are in the world of dance today, do you often think about the early years?
Michelle Fleet: Yes. I've come a long way from growing up in the Bronx, going to dance class every Saturday at Five Points Cultural Arts Center and having recitals. My mentor and teacher was Lee "Aca" Thompson. He pretty much taught me everything. He taught us about discipline, pride in what we do, being honest with ourselves and being respectful of one another. I started there when I was about 4 or 5; I stopped going when I entered high school.
AmNews: Do you remember your first performance?
MF: I do! I remember the tap number, "On the Good Ship Lollipop," for which we had huge lollipops, pretty tap shoes and tutus, and the ballet piece, during which I was dragged on stage in a split by my partner! (laughs)
AmNews: Many years after, you attended and graduated from Purchase College with a B.F.A. in dance. What were those years like?
MF: Eye opening! I knew that I wanted to experience college life away from the city and that was my first choice. The teachers there were amazing, and I danced with my peers. For my senior project, I performed one of Bill T. Jones' solo "Some Songs: 'Ne me quitte pas.'" I learned it from [company member] Maya Saffirn. I did a summer workshop with Bill T. Jones and needed to find a repertory as part of the requirement for seniors. [Jones] suggested that I do the solo in silence and then to the music. As a student, you are always looking for music and trying to do more when simplicity is enough, and performing it in silence spoke volumes; it fed me as a dancer.
AmNews: You received a B.F.A. from Purchase and then went on to an M.B.A. in business. Why?
MF: My mom taught me to do what I love and to always have a backup plan. I knew in my heart that I was going to dance, but I have other interests and decided it would be good to get my M.B.A. in business management. I love learning. I got my M.B.A. through a correspondence course during my second to third year in the main company. I was determined to complete the backup plan.
AmNews: You completed your BFA in 1999 and started Taylor 2 the same year?
MF: I totally did! I graduated from Purchase, and the audition for the second company was the following week.
AmNews: Can you share one highlight of the audition?
MF: Oh yes! I'll share two. I was told that the audition for the main company was on a Friday. So I went to classes during the week to get acclimated. [That Thursday] it was packed, and a lady at the front desk said, "Go next door. Some of the company members are taking ballet. Go take ballet with them, and maybe you can watch rehearsal after." I did, but it was the day of the audition [laughs]. I thought it was [Friday] ... they said, "No, honey, it's today!" And I said, "But so-and-so told me it was Friday!" And they said, "Oh that silly boy." I didn't have the unitard I wanted to wear, my headshot or my resume. They said, "Don't worry, we'll take a Polaroid. Go warm up." I thought, "Well, Chelle, all you can do is just have fun."