We still love you, Biggie!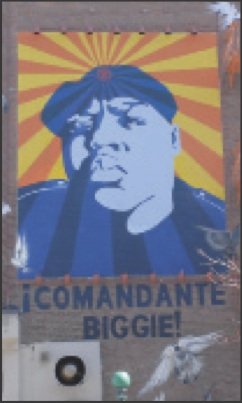 "You never thought that hip-hop would take it this far..."
Depending on the side of the ledger you're on, the date March 9 can elicit one of two reactions. Either you view the day as Notoriously infamous or you can revel in the art that created an immortal.
Do we mourn the death or celebrate the life of Christopher "Biggie" Wallace? Well, we know how Brooklyn do, fo' sho. March 9 will show that the game hasn't stopped, but, in fact, has thrived. Biggie would have taken immense pride in the fact that a few of his direct peers have transitioned their success in hip hop to areas few could have fathomed.
Take a look at what's happening at the Barclays Center on Saturday. Sean "Jay-Z" Carter, Wallace's collaborator, and friend, has a stake in ownership at a world-class arena in downtown Brooklyn and James Prince, creator and ceo of Rap-A-Lot Records, is managing world champion boxer Tavoris "Thunder" Cloud. Cloud is set to headline a fight card in that very arena.
Cloud will defend his WBC Light Heavyweight world championship title against one of the best to ever lace up the gloves: Bernard "The Executioner" Hopkins. For Hopkins, it's more than just adding another belt to his mantle; it's a chase for history. At age 48, Hopkins is attempting to become the oldest fighter in history to win a world title, besting his own record.
"The sky's the limit and know that you can have what you want, be who you want..."
While the main event features a living legend, the night could also mark the first time audience members will see a future superstar fight in person. Look out for the name Keith "One Time" Thurman. In pursuit of his first world championship, the undefeated Thurman steps up in class as he takes on former world champion Jan Zaveck for the
WBO intercontinental Welterweight championship.
With ambition in his heart, Thurman said, "You see a lot of fighters and they're in the ring, but not really in the ring. Their mind is somewhere else and they get caught slipping. I stayed focused so I won't get caught slipping.
"At the age of 24--plus the fact that you're making your debut in front of a New York City audience--sometimes focus is easier said than done, unless you have your eyes constantly on the prize."
Thurman added, "No disrespect to the WBO intercontinental belt--it looks pretty, but I want that world title; that's what I'm hungry for. I want to unify the belts; that's why I called out Timothy Bradley, Floyd Mayweather and Paulie Malignaggi." For Malignaggi, a Brooklyn native, Thurman says, "When I win, I'll call Malignaggi out in his hometown."
"My team supreme..."
The combination of focus and bravado is imbedded in all fighters, but for Thurman, it's warranted. His trainer, Dan Birmingham, is a two-time Trainer of the Year award winner and his manager, Al Haymon, is respected in the entertainment industry across the board (music, film and TV) and was also a Manager of the Year awardee. He says respectfully of the pair, "Eventually, a fighter is gonna do what he's gonna do. So it's up to the trainer to help mold and help find what works best for you. My trainer, having worked with world champions Winky Wright and Jeff Lacy, understands what it's like to work with a tactician and a power puncher at the same time, and a lot of people view me as a mixture of the two and it works."