Women in jazz
Ron Scott | 3/7/2013, 4:21 p.m.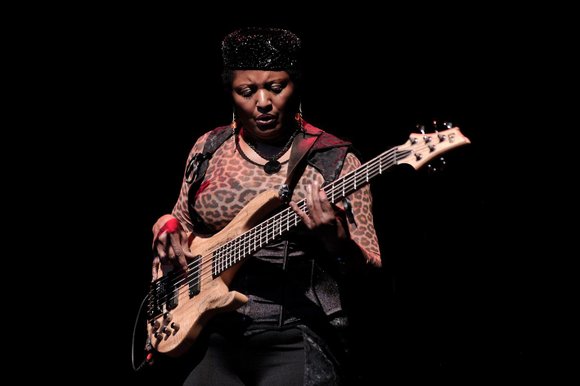 March is Women's History Month, which is when we remember all those who have made significant contributions in women's history, including those women in jazz.
It seems that there should be more female jazz musicians. Historical evidence dating back to the 1920s and certainly the 1940s during World War II shows that when most men were at war. ladies both Black and white were playing in exceptional all-women's big bands across the country.
Sherrie Tucker's book "Swing Shift" discusses this phenomenon, noting that the term "swing shift" was 1940s slang for situations when substitutes filled in for the real workers, or in this instance, musicians who were at war.
She devotes a chapter to the International Sweethearts of Rhythm, an integrated female swing band. Their popularity, which peaked between the late 1930s and '40s, offered them touring dates on the "chittlin circuit," like New York's Apollo Theater and the Howard Theater in Washington, D.C. They even hit France and Germany as part of a USO tour in 1945.
Ina Ray Hutton and Her Melodears were also popular; she was one of the few prominent female bandleaders. It was stated that Hutton's band was "a sure-fire combination of sax and sex," and that she was a Lana Turner look-a-like.
Once the band started playing, it wasn't about being sexy; these ladies could play. Hutton once noted, "If a girl got sick or decided to get married, it was horrible trying to replace her ... You'd be surprised how hard it is to find a good female trumpet player." Ironically, in today's market, that may still be a difficult find.
Today, all-women's bands are basically non-existent except for the ones that are formed to play for special occasions (jazz festivals, etc.). Bertha Hope and Carline Ray had a great all-women's band in Jazzberry Jam. Beyonce boasts an all-women's band with saxophonist Tia Fuller, and the ensemble swings hard.
"I think that women have expanded their role in the jazz community. We are producers, record label owners, announcers, etc.," said Sheila Anderson, an on-air personality on WBGO-FM Jazz Radio. "At one point, other than the noted women jazz musicians, very few women became household names in jazz. It is interesting that the four women on-air at WBGO are Black [Awilda is Puerto Rican]."
"Jazz is still a predominantly male industry, so women tend to still be somewhat in the background. However, there is no denying that we play important roles," Anderson added.
Some women, like Jo Ann Cheatham, work behind the scenes. Cheatham is the owner and publisher of Pure Jazz magazine. Maintaining a print publication in this world of e-books and two-minute sound bites can be difficult, but Cheatham is making it work.
"I started Pure Jazz Magazine because there were no magazines that spoke to the African-American jazz public. The architects of the idiom created a music that celebrates the masters and soon-to-be masters of this musical art form," said Cheatham. "It is difficult even now for people to say that I am the person who is responsible for where the buck stops. It is a difficult time for a woman running a magazine."