Women in jazz
Ron Scott | 3/7/2013, 4:21 p.m.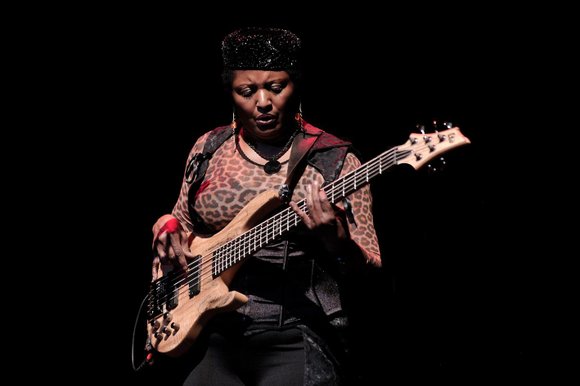 Kim Clarke is a noted bassist, composer, bandleader and producer. This March will be her 11th year producing "Lady Got Chops" at various venues throughout the city and New Jersey. For a complete listing and schedule, visit ladygotchops.com.
Some of this month's events are:
On March 13, violinist Sonya Robinson will perform at Don Coqui in New Rochelle. On March 16, the Mala Waldron Trio, bassist Mimi Jones and drummer Sylvia Cuenca will perform at Sista's Place (456 Fulton St., Brooklyn).
On March 18, Local 802 (322 W. 48th St.) will host the "Lady Got Chops Monday Night Jam Session" at 7 p.m. The house band will include bassist Kim A. Clarke, pianist Miki Hayama, saxophonist Lakecia Benjamin and drummer Kim Thompson.
To date, there have been over 170 women who have participated in the Lady Got Chops Women's History Month Music and Arts Festival. They have performed in over 45 venues in New York City, the triState area, California and Berlin.
"I didn't start this festival alone; it was while subbing on a gig I met Lillithe Meyers and her daughter, owners of the now defunct Jazz Spot Cafe in Bedford-Stuyvesant, Brooklyn," Clarke said.
"In March we decided to do something for Women's History Month that would entail massive grassroots promo and booking of some of the many women I had worked with over the years in the Kit McClure band and as a musician in New York City since the late '70s," stated Clarke.
"The title 'Lady Got Chops' was an answer to a hip hop song 'Baby Got Back' -yes, she has brains too--so that's where the name came from."
"We maintained the festival for the length of the cafe--seven years. When the Jazz Spot closed, I thought that was it, but friends supported me with venue bookings and interest and here we are," Clarke said. "Lady Got Chops" is in conjunction with Women in Jazz.
One thing is for sure: This event and the month of March bring out all the female jazz musicians who should be on the set more often and celebrates women of all races who have made great contributions to our society.