Elizabeth 'Bessie' Coleman: The original fly girl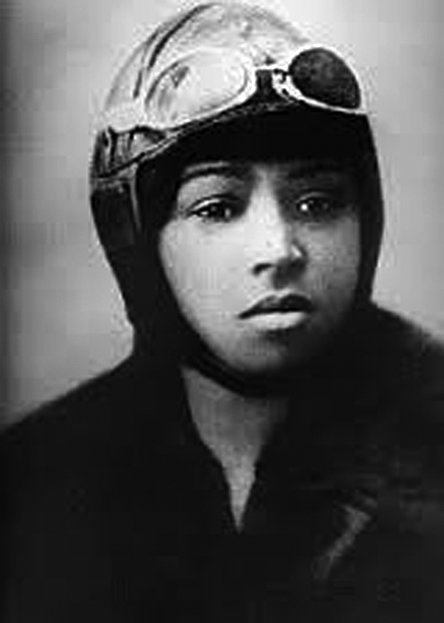 The theme of this year's Women's History Month is "Science, Technology, Engineering and Math" (STEM). We'll take a look at four women of color who excelled in these fields.
Bessie Coleman soared from a life of poverty, across the skies and into history as the first Black female aviator--high dreams for a girl born in the cruel confines of the Jim Crow South.
Coleman was born in Atlanta, Texas, on Jan. 26, 1892, the 10th of 13 children born to sharecroppers George--who was part Cherokee--and Susan Coleman into a world of "no you can't." Jim Crow laws meant that Blacks couldn't vote, couldn't ride in rail cars with whites and couldn't use public facilities like restrooms, drinking fountains or even park benches. Black children took long walks to schoolrooms that were nothing more than one-room shacks, often without books to read, paper or pencils. Despite all of that, Bessie Coleman was an excellent student who loved to read and excelled at math.
George Coleman, tired of the racism in Texas, left the family in 1901 and headed to Oklahoma, which then was known as "Indian Territory." He was unable to convince his wife and children to go with him. Soon after, Bessie Coleman's older brothers also left Texas in search of a better life. When Coleman turned 18, she headed to Oklahoma and enrolled in the Oklahoma Colored Agricultural and Normal University, now called Langston University. However, her money ran out after one term, and she returned home.
When she was 23, she headed north to Chicago to live with her two brothers, but the North offered little more than the South did for a young Black woman who had race and gender against her. Coleman remained determined to "amount to something."
She became a manicurist, working in the many barbershops in an area on Chicago's South Side known as "The Stroll." Coleman was still a voracious reader, and one of her idols was Robert Abbott, editor and publisher of the powerful Black newspaper the Chicago Defender, and one of America's first Black millionaires.
In 1918, Coleman's mother and three younger sisters moved to Chicago.
Soldiers were coming back from World War I with grand stories of adventures in the skies. Coleman's brother, who had served in France, often chided her with tales of French women flyers. But there were very few women of any race in the United States who had a pilot's license and most who did were wealthy and white. Coleman decided that she too would fly.
Not surprisingly, every flying school she approached about taking lessons turned her down because she was Black and a woman. On the advice of Abbott, she decided to go to France and learn how to fly.
She learned French, emptied her savings and, with help from Abbott and others, left for Paris on Nov. 20, 1920. She enrolled at the Ecole d'Aviation des Freres Caudon at le Crotoy in the Somme, completing the 10-month course in seven months. She learned her craft in a French Nieuport Type 82 with a steering system that consisted of a vertical stick that had the thickness of a baseball bat and a rubber ball under the pilot's feet.