Elizabeth 'Bessie' Coleman: The original fly girl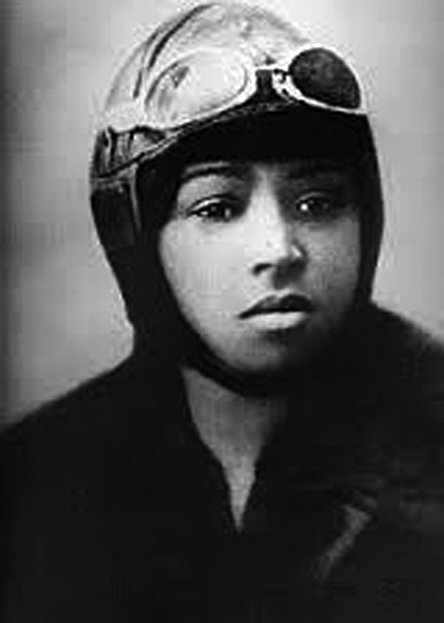 On June 15, 1921, Coleman officially became not only the first Black female aviator to receive a license from the prestigious Federation Aeronautique Internationale, but the first American woman to hold an international pilot's license. She would spend another three months in additional training before heading for New York on Sept. 16, 1921, aboard the S.S. Manchuria. She would return the following year to receive advanced training and further hone her skills. Coleman was now ready to take to the skies.
She made her flying debut on Sept. 3, 1922, at an air show at Curtis Field near New York City. The show was sponsored by Abbott. Coleman was billed in the Chicago Defender as "the world's greatest woman flyer." She did indeed "amount to something." She was performing in shows around the country and also had a dream of opening a school for aviators.
She went back to Texas, making her flying debut there at a Houston auto racetrack on June 19, 1925. Next, it was off to California to raise money for her own plane, which she promptly crashed. She returned to Chicago and would spend the next two years lining up exhibition flights and lectures. At Love Field in Dallas, she put a down payment on a plane.
Coleman embarked on a series of tours in Black theaters in Georgia and Florida. While there, she opened a beauty shop in Orlando to raise money for her planned aviation school, while at the same time, she continued exhibition flying and occasional parachute jumping. She refused to perform for segregated audiences and insisted that everyone be allowed to use the same gates.
With her savings and additional monies from wealthy patrons, she made the final payment on her plane in Dallas and made arrangements to have it flown to Jacksonville, Fla., for a May 1 engagement.
On the evening of April 30, 1926, Coleman and her mechanic took the plane up for a test flight, but the plane malfunctioned. The mechanic who was piloting the aircraft lost control and Coleman, who was not wearing a seat belt, was thrown from the open cockpit several hundred feet to her death. Thousands of mourners filed past her coffin to pay their respects to the little girl from Texas who was determined to "amount to something."
Coleman's dream of a flying school was realized when William J. Powell established the Bessie Coleman Aero Club in Los Angeles. In 1931, the Challenger Pilots' Association of Chicago began an annual flyover at Chicago's Lincoln Cemetery to honor Coleman. Chicago Mayor Richard Daley renamed Old Mannheim Road at O'Hare Airport "Bessie Coleman Drive." In 1995, the U.S. Postal Service issued a Bessie Coleman stamp in honor of the world's first African-American pilot.
Activities
Look it up: Use the Internet or other reference source to learn more about the life of Bessie Coleman and other African-Americans in the aviation field.
Talk About It: What makes a good pilot? Make a list of skills and subjects that you feel are necessary for the job. Why are these specific skills important?
Write it Down: Make a list of jobs and the math or science skills needed to perform the tasks. What are your favorite areas of math or science?
This Week in Black History
March 5, 1770: Crispus Attucks, an escaped slave, is the first man killed during the Boston Massacre, an event that led to the American Revolutionary War.
March 6, 1857: The Supreme Court's Dred Scott decision denies citizenship to Blacks and denies Congress the power to stop slavery in federal territories.
March 6, 1957: Ghana gains its independence from Great Britain.
March 10, 1913: Harriet Tubman dies in Auburn, N.Y.