Black men six times more likely to go to prison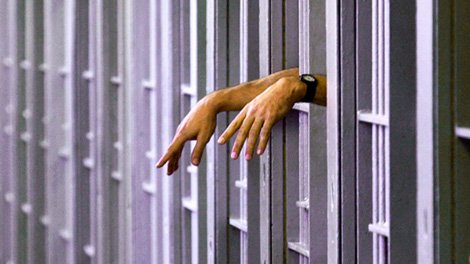 New numbers from a recent report state that young Black males are six times more likely than the national average to be incarcerated. According to experts, prison is now becoming the norm for many poor Black males.
African-Americans account for around 3,000 of inmates per 100,000 residents, and Black men who do not hold a high school diploma are more likely to end up locked up than landing a job. Information from the U.S. Sentencing Commission uncovers the reality that Black men are given longer prison sentences than white men for the same crimes.
"More than 60 percent of the people in prison are now racial and ethnic minorities," said officials from the non-profit organization The Sentencing Project. "For Black males in their thirties, one in every 10 is in prison or jail on any given day. These trends have been intensified by the disproportionate impact of the 'War on Drugs,' in which two-thirds of all persons in prison for drug offenses are people of color."
While numbers don't look to be going down anytime soon, activists and leaders are concerned about the conditions prisoners are facing behind bars. Earlier this month, the New York Civil Liberties Union (NYCLU), along with other groups, submitted a letter to the United Nations requesting an investigation into the use of solitary confinement in New York State prisons.
The letter--addressed to U.N. Special Rapporteur on Torture Juan Mendez--alleges that New York's use of extreme isolation and deprivation is inhumane, unsafe and arbitrary and implicates fundamental human rights protections.
"Every day, New York's use of extreme isolation exposes thousands of people to grave physical and mental suffering," said NYCLU Executive Director Donna Lieberman. "This cruel and arbitrary punishment does not make our prisons or communities safer. It violates basic human rights protections and degrades our state's commitment to respecting human dignity."
From 2007 to 2011, New York issued more than 68,000 sentences to extreme isolation as punishment for violating prison rules. Only 16 percent of isolation sentences over that period involved violence or weapons. On any given day, approximately 4,500 people--about eight percent of the entire New York State prison population--are locked down for 23 hours a day in isolation cells.
However, this issue of imprisoned Black men goes far beyond the cell; experts describe it as one of the culprits in several issues facing the Black community. The absence of Black men in the picture plays a factor in broken family structures and household economics.
"Black communities often fall victim to deindustrialization, leaving them with few job opportunities and slim chances of social mobility. As a result, many Black men become hopeless and desperate and turn to such illegal activities as selling drugs to try to provide for them and their families," said SUNY Oneonta professor and prisoners rights advocate Breea Willingham. "And because many of these men have children, they become 'live-away' fathers once they're incarcerated. Subsequently, their children grow up without a father in the home, and the cycle of poverty, crime and imprisonment is more likely to be perpetuated."