Gil Noble Foundation is announced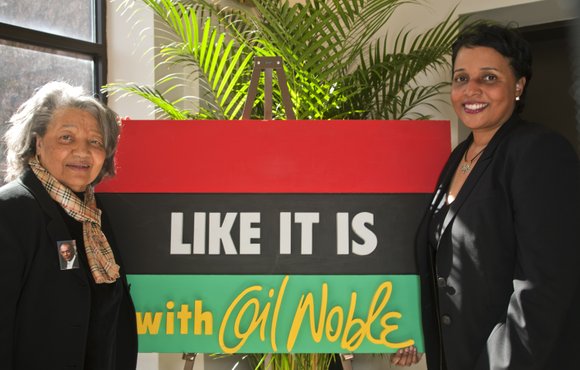 The family of pioneering journalist Gil Noble has formed a foundation in his honor. The mission of the foundation is to preserve and manage the 43 years of work amassed by host of ABC's "Like It Is." On March 3 in Harlem's Schomburg Center, an event recalling Noble's life work and announcing the foundation was held.
Noble's daughter Lisa is at the helm of the project, which will bear her famous father's name.
"Right now the foundation is in the process of forming a board that will be in charge of both fundraising and managing the archives. There will, of course, be an educational component," Noble told the AmNews.
"We're currently going over who we want on the board. We want active members who will take part in the fundraising when the archives are put in digital format and catalogued. It will be both profit and non-profit.
"We will have an educational base with people like professor Len Jefferies, vice-chancellor emerita of the New York state Board of Regents, Adelaide Sanford and Pulitzer Prize-winning journalist Les Payne. They know their business. They know what to do and they know my father's heart. It has to be from an African-American prospective. That's very important to me, and that's why people from all over the world want it. It is an African-American talking about his own history, and I would like it to come from other African-Americans. Why not put it in the hands of people who know what to do?
"The archives will hold thousands of episodes. The education side will determine how the material will be distributed, but decisions will be made by the board as a whole. Once the project is put in digital format, the board can decide which universities can borrow it," she said.
Noble is hoping the collection will become a valuable resource of information on Black history, like the Schomburg Center itself.
"Whenever you walk into the Schomburg, you get an immediate sense of your history. When you walk into the Schomburg, you know it's an African-American experience. You know it's not some offshoot of something. It has everything. If you want to rent a video or use it for a thesis essay, you're going to get something from the African-American experience, and that's how I want the archives to be," she said.
There is worldwide interest in Gil Noble's work, especially in his profiles of the great jazz artists.
"Jazz is very big in Japan, and he has all these wonderful tapes about jazz artists. When the lights go down, it's coming from an African-American experience and not someone's version of it," Noble said.
Noble is carrying out her father's plan for the work. "When my father started to talk to me about what he was going to do after his retirement, I would say, 'Why don't you just put it out there and distribute it?' He said, 'It is so important to me that the people who distribute my work and the people who talk about my work are qualified to talk about my work.' He used to preach to me that 'history' means 'his story.' If you have someone who is not knowledgeable talking about it, you'll lose its whole context.