Remembering Auntie Rosa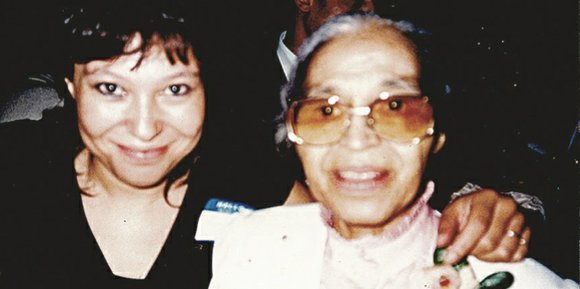 "I asked her how did they treat her after she was arrested. She said that they actually treated her very well. They took her in. She was very cooperative with the pictures and the fingerprints. She called her husband, and then word got out to the NAACP, and they went to Martin Luther King," she said.
McCauley finally got to meet her famous cousin when Parks came to New York in 1980 to appear on the television show "To Tell the Truth."
"She arrived in Albany and my father picked her up. She spent the night at our house. My sister and I gave up our room. I met her and she had the biggest smile, larger than life. She said, 'Come here baby and give me some sugar.' It was amazing because when she hugged me, the tingle went from head to toe. It was a hug like you were never going to see that person ever again. The emotion was unreal. It was like that whenever you were in her presence. That spirit and power--and you would never guess that it came from such a soft-spoken woman.
"Rosa was completely family oriented. She asked, 'How are you doing in school? Show me what you're learning. What kind of things do you like?' It was neat because we were getting to know each other. She always had that smile. She was a very happy person. In all the time I had to spend with her, I never remember her saying anything negative.
"In my adulthood, when I spent time with Rosa, I found out that her brother, Sylvester McCauley Sr., and my father were the best of friends as children. Rosa and my father were first cousins and were pretty close. My grandfather, Robert, had stayed with Rosa for a while in Abbeville, Ala. They were carpenters and masons," McCauley said.
"Rosa was living in Detroit. I saw her again when we went to Stamford, Conn. She wanted my father to come visit before she went back to home. After that, my dad kept in touch with her.
"We had a family reunion in 1987 in Wallingford, Conn., and I was able to spend three days with her. I had a Luther Vandross CD and she just loved it. I gave it to her. I was now a young adult with my first child. It was our first big family reunion with family from all over the country," she said.
"My dad passed in 1991. Before he passed, Rosa had come to Albany to visit a friend. She knew that my father was ill and she made a point to go to the Albany VA [Medical Center] to visit him. The news got out that she was in the building and there was a line of people out the front door of people waiting to come in and meet her. She said, 'Sure.' She would say 'hi' and shake their hands. The administrator came up and pushed his way into the room and said, 'I hear Rosa Parks is here and I want to meet her.' Rosa said, 'You're going to have to get in line and wait your turn.'