Derick Grant brings back the golden age of swing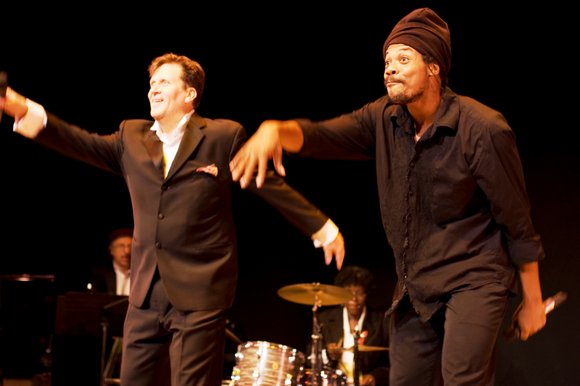 AmNews: Are there other inspirations like Hines for this show?
DG: Bringing style and including flash tap dance was certainly something I wanted to accomplish. For maybe the past 15 years or more, we've been trying to focus on technique and musicality and get away from flash and entertainment, so I wanted to revisit an era when flash was a big part of selling what we do. [It's about] still being strong technically and musically, but also having that balance of delivery and giving people something fun to look at as well as listen to. I also wanted to bring back the idea of show girls, the chorus line, because that's deficient. That time period really lends itself to all of those ingredients, so that's why it's fun to start there.
AmNews: Can you give an example of a flash act?
DG: Sure. The Nicholas Brothers are probably the most popular flash act.
AmNews: Tell us a bit about the Shufflettes and Mable Lee, who is now 92 years old.
DG: (laughs) It's a concept that Mable has never given up. In fact, a lot of the performing that she has done in the past 10-15 years has always included a line of ladies, so I thought of her immediately because she has been an inspiration. Also, the movie "Been Rich All My Life," based on the Silver Belles and how strong a presence they had, was one of the best things we had going in tap. The fact that that no longer exists is a bad thing, so I wanted to revisit that. We certainly have a great deal of tap-dancing women in our tap community, and they were dancing their butts off.
AmNews: What has the process been like?
DG: The process is my favorite part. Once it gets on stage, that is for the audience. This is for us. Living with each other every day, working hard on something, watching it improve, putting our blood, sweat and tears to make it move forward, make it the best it can be--those relationships are what we are in it for; it's the biggest payoff for us as the performers, directors and choreographers. It's something that I hope the community will continue.
We need more shows so that people can live through this process and enjoy being professional tap dancers because sometimes it's hard when you spend your young lifetime just learning and the only thing you can become is a teacher. You spend your life just teaching without having a career in the middle, but [hope for] the opportunity to go out and perform, find yourself--your style and voice--and maybe teach at the end of the race.
Without that middle, it's tough, so I hope this is the beginning of us being able to produce more shows and live in the process to really enjoy our careers.