New Latin American pope Jorge Mario Bergoglio not a person of color?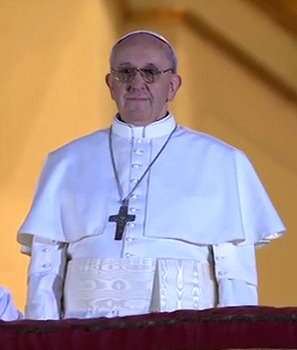 The installation of Jorge Mario Bergoglio as Pope Francis I on March 13 caused a stir of questions regarding his race. Yes, he was the first pope from Latin America, but should he be considered the first pope of color?
By definition, a "person of color" is an all-encompassing, typically American term that categorizes non-whites, which include Asians, Indians, Native Americans, Blacks and Latinos.
This classification may work in the U.S., but it does not function so well in Latin America. According to a study by the Yale-New Haven Teachers Institute, 31.4 percent of immigrants to Argentina came from Spain, while 44.9 percent came from Italy from 1857 to 1940. This helps quantify just how many immigrants came from these specific countries as opposed to other places in Europe.
Pope Francis' own parents were immigrants to Argentina. Since the children of two Italian citizens are legally regarded as Italian no matter where they are born, according to Italian legal tradition, Pope Francis is technically regarded as Italian.
According to Argentina native Martin Pereyra, a law student at the
University of Buenos Aires, many Argentines would not identify as people of color because of the great deal of European influence in the country. The country is often even nicknamed the "Paris of South America."
"I don't think we have just one 'color,'" Pereyra said. "But at the same time, we are considered Latinos."
The Pew Hispanic Survey released in April of last year showed that
Latinos in the U.S. consider themselves to belong to various races.
Thirty-six percent referred to themselves as white, ten percent considered themselves to be Black or Asian or of a mixed race, and twenty-five percent maintained that they were Hispanic or Latino, even though these labels are not considered to be a race by the U.S. government.
So while prescribing to a single "race" is far from a universal concept for the Latino community, Raul Hinojosa-Ojeda, professor in the Chavez Department of Chicano/a Studies at the University of Central Los Angeles (UCLA), believes that Bergoglio should be considered Latino and thus a person of color--despite the pope's Italian roots. According to Hinojosa-Ojeda, using lineage to determine who is Latino would "eliminate a large part of Latin America and a lot of Latinos," he told LA Weekly last week.
"More important is the experience, not the genetic background," he continued.
If we're categorizing by experience as Hinojosa-Ojeda suggests, Bergoglio's life in Buenos Aires points to an authentic Argentine experience. He is known for being a passionate futbol (soccer) fan, something in which many of the country's residents have no shame in indulging. He has also admitted to enjoying and dancing the Argentine tango.
Whether or not the pope should be considered a person of color will likely continue to be disputed until he himself makes a statement. Either way, some Latinos living in the U.S., such as Federico Finchelstein, an Argentine historian who teaches at the New School, are excited about the installation of the first Latin American pope.
While Finchelstein told the AmNews that Bergoglio would not be considered a person of color in the "Argentine context," he writes in the French online newspaper Mediapart that the new pope is "a remarkable choice for the papacy" and "might provide the Vatican with a novel form of government."