Oh, great, more Braxtons ...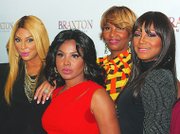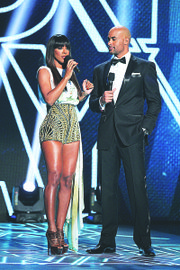 When the proverbial "they" concocted the phrase "Big Brother is watching," they weren't lying. With technology what it is today, Big Brother has help from Big Sister, Lil Brother, Lil Sister, Aunt ... you get the point. At any given moment, something can pop and you're out there on blast for all of the world to see.
In fact, if you get popular enough, maybe you can marry a ball player who moonlights in hip-hop in Atlanta and get a network interested in doing a reality show. Yeah, a reality show! Then you can parlay that fame into a singing career. Yeah!
It's sad, but that's the career path taken by a couple of people in the quest to become an overnight celebrity. Predictably, the product has been horrible--and that's the kindest word that comes to mind. Now here's the B-side: musicians taking the reality show lane.
These types first came in the form of a brand-new artist growing up in the public eye, culminating with an album release of pedestrian material set to capitalize on their popularity. The new artist then evolves into an established artist who wants to reveal a little more, but again, the music leaves something to be desired.
An unlikely or likely person, however, might be accredited with stemming that tide. As much as you might want to, you can't front on that "Love and War" joint by Tamar Braxton--the girl got one! Season 3 of "Braxton Family Values" may have won over a few more hundred thousand viewers to their Thursday 9 p.m. time slot on WEtv. As an added incentive, fans can enter the "'Braxton Family Values' Styled Like a Braxton" contest by posting photos via Twitter, Instagram and Tumbler and applying the following hashtags #styledliketraci, #styledliketoni, #styledliketrina, #styledliketowanda and #styledliketamar to share their latest Braxton-inspired looks. Items from the mentioned social sites will be aggregated on wetv.com for users to browse and "like." Each week for nine weeks, one winner will be chosen and awarded a $500 gift card. On the 10th week, one grand prize winner will be awarded a VIP trip to the Essence Music Festival. Don't forget to check out "Braxton Family Values" on Facebook and follow @WEtv and #BFV on Twitter for additional updates and contest giveaways.
Another reality TV star made some noise this week. Well, sort of. Boris Kodjoe, one of the stars of BET's scripted reality show "Real Husbands of Hollywood," showcased his high-end clothing line Alfa. Kodjoe reverted back to his days as a model and co-hosted with Kelly Rowland for year number nine of BET's music-fashion hybrid, "Rip the Runway." Also pulling double duty was Jaden Smith, who performed and debuted his and sister Willow's line, MSFTS. Other performers included Rick Ross, Meek Mill, Omarion, Luke James, Watch the Duck, Sevyn and Trinidad James. Stay tuned to BET for dates and times of re-airings.
Yo, I'm telling y'all now--it's about to go down heavy at B.B. King's in the next few months. Next week it begins: March 25 at 8 p.m., it's Loose Ends (yes, them); March 27, it's Avant; and March 31, it's Tevin Campbell. Check the box office (237 W. 42nd St.) for ticket prices. Over and out for me. Holla next week. Til then, enjoy the nightlife.