Escape to Costa Rica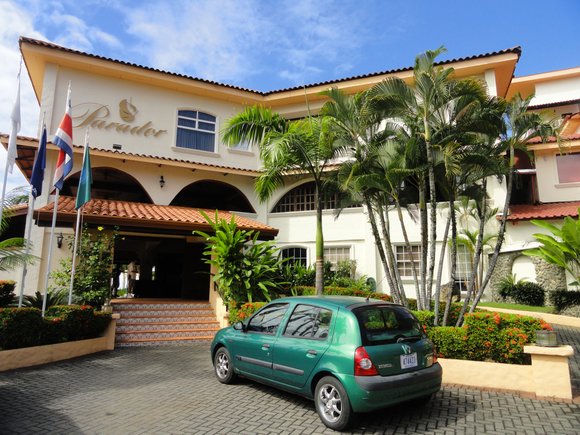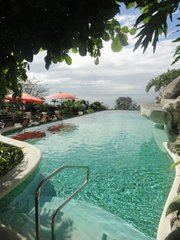 It was about 11 p.m. when we emerged from Customs and met our driver for the two-hour drive from San Jose to the Puntarenas region, Costa Rica's largest province, known as the "Pearl of the Pacific."
A slightly humid breeze gently jostled our bodies; we were still feeling fully rested after the short three-and-a-half hour flight from Houston. Although night had fallen, we could still catch glimpses of the regions as we rode along; we saw a very modest, almost rural community near the airport, eventually broadening out to wide, four-lane highways bordered by scenic mountainous terrain.
The last 45 minutes raised our excitement level a notch--lofty trees and lush, flowering shrubs began to emerge, as if purposely poking out the crowns of their heads below the moonlight to deliver just a taste of what we would experience for the next five days.
Finally, the van began ascending very steep, narrow, barely one-and-a-half-car-width hills, winding upward to the crest and coming to rest at the semi-circular porte cochere of a gorgeous Spanish-inspired hotel: the Parador Resort & Spa.
Breathtaking beauty all around
"Oh wow!"
The mouths and eyes of both my traveling companion and I were agape when we awoke the next morning to the melodic chirping of the birds. We delightedly took in our first glimpse of the dazzling water of the Pacific Ocean.
From the balcony of our luxurious fifth floor suite of the Las Suites building, towering like a beacon high above the 12-acre Parador Resort property, we had the most spectacular view--the ocean peacefully laid out before us, gracefully embracing three rocky prominences rising majestically to touch the sun-drenched sky. Below us was a profusion of luscious, tropical foliage burst forth in emerald, ivy, jade and avocado hues punctuated with vivid fuchsia, goldenrod, violet and amber blossoms. In the giant trees, the spider and howler monkeys casually leapt from limb to limb, expressing their pleasure at what I would assume to be the most carefree of lifestyles--nowhere to go, nothing to do.
Our luxury Caribbean-themed suite was encompassed by a voluminous 20-foot ceiling. Included were a comfortable king-size bed flanked by contemporary ebony nightstands, a full-size suede couch and ottoman, coffee table, glass-top dining table for two, cocktail bar and fridge and flat-screen TV. The wall-partitioned bathroom area featured a Jacuzzi tub, his and hers vanities, granite glass-enclosed shower, toilet room and desk/counter area.
Behind our home, the dense rainforest revealed a plethora of indigenous trees and shrubbery, with a new marina and beach just a stone's throw away from the property in the distance. To say we had arrived at heaven-on-earth would be an understatement. And we hadn't even left the room yet.
Home away from home
Family-owned and operated, the Parador Resort & Spa is an award-winning hotel and Costa Rica's premier eco-luxury resort. The name "Parador" stems from the Spanish word "parar," to stop. In Spain and other Spanish-speaking countries, paradors are a type of luxury hotel usually found in historic buildings such as castles or monasteries.