Virgina State ran their way to 10 all-America trophies
3/28/2013, 5:31 p.m.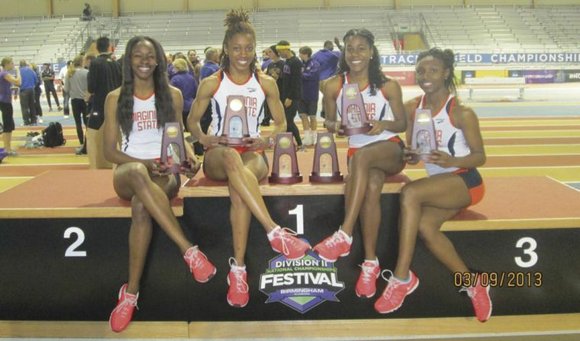 Virginia State University, which has one of the top Black College athletic programs in the country, sent eight student athletes to compete in the 2013 NCAA Division II Indoor Track & Field Championships in Birmingham, Ala., and the Trojans returned with 10 All-American trophies and a National Champion in the women's 400-meter dash. Sprinter Samantha Edwards won her first national title by winning the 400-meter dash with a time of 53.52 seconds. Edwards later ran in the 200-meter dash and finished 8th overall with a time of 25.33, allowing her to claim her second All-American trophy of the championship. Capping off a monumental experience for Edwards, she anchored the women's 4x400-meter relay team, which collected more accolades. Edwards will end her athletic career with a total of 10 NCAA All-American Trophies and a national title. The Trojans' women's 4x400-meter relay team of Alicia Terry, Jovonne Tyson-King, Taylor-Ashley Bean and Samantha Edwards finished seventh in their event with their fastest time of the yeara, 3:46.42. All four received All-American honors; this was the second All-American accolade for Tyson-King.Virgina State ran their way to 10 all-America trophies.