Harlem Youth Marines steers kids from gang violence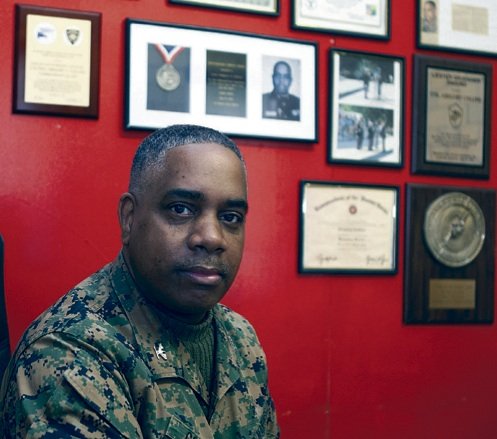 Every precinct in Harlem, as well as the 32nd, 28th, 26th and 30th precincts, all have officers who were once cadets in Collins' program. Members of the Harlem Youth Marines have been as young as 7 years old. The oldest member is 35. Since its inception, more than 2,000 kids have come through.
"We start them at 7 and get them to stay through high school. They became good, productive citizens. The Harlem Youth Marines now has chapters in Niagara Falls and in Reading, Pa.," Collins said.
The group has enjoyed once-in-a-lifetime opportunities. In 1992, the cadets marched in President Bill Clinton's inaugural parade. They were also part of the escort honor guards for Princess Maxima of the Netherlands and England's Prince Andrew.
The program works. A mother brought in her 10-year-old daughter and complained that she was behaving badly in school. Collins took her right in. Students must maintain their grades as part of the program and Collins checks their report cards. The kids clearly love being part of the Harlem Youth Marines.
Twelve-year-old Jaisean Crumble of Staten Island is a brand new recruit. He heard about it from his dad, who used to come when he was young. "It's good. I like how we practice our drills" and learn how to be a leader. Jaisean says he's learned "how to behave."
Fifteen-year-old Gabrielle Castro of Harlem has been in the program for three years. "It gets me off the streets and we do a lot of sports here, and we learn a lot about the military. As we stay in this program, we progress in terms of maturity levels and grades and your personal goals in life. When you get the concept of being in this program, you learn how to act like a real man and become a statistic, but become a good statistic. My grades went from 60s and 70s to 80s and 90s. My average is a 92," he proudly added.
Fifteen-year-old Louis Lubin is from France. He and his dad moved to Brooklyn, where he learned about the program. He joined in September of last year and has been promoted twice since then. "So far, it's been pretty great. It teaches you how to be a leader. Leading by example is the whole idea behind this program," he said.
Twenty-year-old Denzel Brown has been in the program for five years. His job is to bring in new recruits. He was in the process of signing up a new cadet. "I'm trying to start a military sports team in Harlem. I want to start at the bottom and work everybody in the team as one, as a family, as a unit. What I want to do for the youth of Harlem is give them a second family. I can build this family new and get the youth off the streets. Today, I'm on duty. Tomorrow, I'll be on duty recruiting kids. I go out into the streets and playgrounds and schools--as many as possible in Brooklyn, New York, anywhere. I go borough to borough to borough and get kids that want to play military sports and learn what we're about," Brown said.