Johnny O' Callaghan asks, 'Who's Your Daddy?'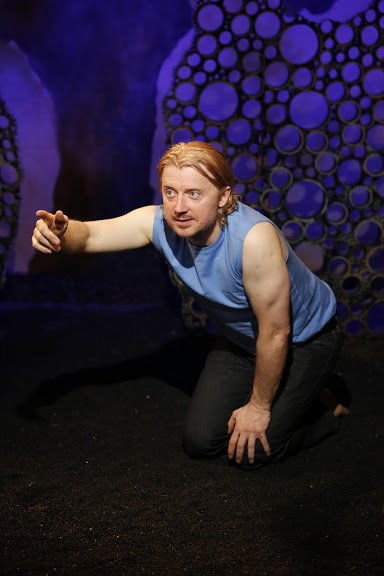 You may not expect to be transported to Africa by an Irish actor from "Stargate Atlantis," but Johnny O'Callaghan does just that in his autobiographical one-man show, "Who's Your Daddy?" All irony aside, O'Callaghan is fully aware of the ground he covers; as he hopscotches back and forth between Africa and the U.S., he also encounters the very real--and frequently very dangerous--disparities in race, culture, wealth and gender politics that literally color his experience.
Presented in an intimate theater with a sparse set of soil, a boulder and an outline of a tree in the distance, the show immediately establishes a natural yet foreign feel. Still, there are barriers in this landscape; the barbed wire adorning the top corners of the stage serves as a subtle reminder of the looming threat of violence and imprisonment.
Opening with a background of "The Lion Sleeps Tonight," popularized by "The Lion King," and a dose of his ever-smoking, ever-drinking mother's racism, O'Callaghan dives into the story of his family in Ireland, his life in L.A. and his life-altering trip to Uganda, where he meets his son.
Freshly dumped and freshly fired by his disturbingly frisky octogenarian boss, O'Callaghan finds himself caught in somewhat of a pit of despair--which looks a lot like his crappy, rat-infested Hollywood Hills basement apartment. Then along comes Stella, a vapid, opportunistic fellow actor with a plan to make a touching Oprah-worthy documentary about a poor orphanage in Uganda. O'Callaghan goes along for the ride and ultimately falls in love with a 3-year-old boy. The rest of the show explores O'Callaghan's experience trying to adopt his future son and how that process changes him.
"I think the piece is a very spiritual story and a waking up to one's potential to live a life of following the heart," O'Callaghan told the AmNews. Unfortunately, O'Callaghan didn't always get much support in his fight for his son.
"It was interesting. When I told people I was adopting, everyone seemed to have an opinion. They felt like they didn't need to censor themselves; they would say anything they wanted to me. That surprised me ... people's attitudes to race," he said.
It's a touchy subject--a white man who goes to Africa for a visit and ends up adopting a child. Citing his mother's reaction, O'Callaghan asked, "Who do you think you are, Angelina f--g Jolie?" True, questions of race, privilege and guilt are inexplicably intertwined with this story, and while O'Callaghan does try to touch upon them, this show is very much his own story of redemption, and that is in no way forgettable. Which isn't to say that it's insincere; O'Callaghan's lens, while still somewhat limited, is widened by his racial, economic and social displacement in Uganda.
"People would ask me a lot of questions--I was so pasty white and my son was so chocolate. We're so different. Different people would have different reactions to it. The older white community was very patronizing and would want to say, 'Can I give him a hug?' or 'Can I buy him chocolate?' In the Black community, I'd get a lot of 'Where is his mama?'" O'Callaghan said.
"I didn't go to adopt; I met this little boy and I couldn't leave him. I just felt he was my son. And yeah, he didn't look the way in my mind I thought my son would look," he said
O'Callaghan and his son Odin, now 11 years old, live in L.A. O'Callaghan hopes to spread his story and is working to adapt "Who's Your Daddy?" to the big screen. "Who's Your Daddy" will be playing through May 12 at the Irish Repertory Theatre (132 W. 22 St.). For more information, call 212-255-0270 or visit www.irishrep.org.