A mother's grief: Mother of Kimani Gray speaks out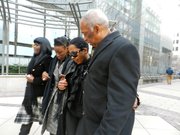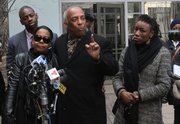 "He wasn't a dog. You should have given him a chance. One shot was enough."
Carol Gray is the grieving mother of police shooting victim Kimani Gray. As she prepares to bury her 16-year-old son this weekend, she has a message for the cops, who are led by Police Commissioner Ray Kelly and de facto head of the NYPD, Mayor Michael Bloomberg.
"Haven't you guys done enough? Too many families go through this same thing. Haven't you formed a base where you can retrain these officers how to approach a scene of a crime or whatever? How to deal with juveniles?" Carol Gray asked.
The East Flatbush neighborhood where the young man was shot by the much-sued Officer Jovaniel Cordova and Sgt. Mourad Mourad on Saturday, March 9, remains tense after days of vigils, protests and clashes with police. The official story is that the officers observed Gray hanging with a group of youths, and when confronted by cops, he began fidgeting with his waistband and pulled out a gun. The officers shot at him 11 times, hitting him seven times, at least three times in the back. Several witnesses have stated that Gray had no gun and begged for his life. Cops took a few days to release an image of the gun, and Bloomberg took days before he issued brief comments on the case. This Friday and Saturday, there will be a wake and funeral for the teen.
The officers have been put on modified duty. While the young man's family met with District Attorney Charles Hynes on Wednesday, a "wanted" poster has already popped up on the Internet for the two cops. (See story on page 3.)
Speaking to the Amsterdam News late Tuesday night, alongside Councilman Charles Barron, Carol Gray sent a message to NYPD officers. "You are trained to protect and serve," she charged. "You are trained for situations like this. And my Kimani was not going to come at you, the Kimani I know--because I am not a mom who turns her nose up and does not get involved in my kid's situation. I look at everything. I check in the night. I know what is going on in the street."
Asked if she thought her son had a weapon, Gray told the AmNews, "I wasn't there, but the Kimani who I know would not be walking around with a gun. Kimani walks around with condoms in his pocket. He was responsible. I overheard the conversations he had on the phone with females."
Saying that she told him to be responsible, Gray broke down when another realization hit her. "Unfortunately, I am not going to see that--you know. I won't see what his children would look like--what kind of job he would be holding down. What kind of man he would develop into being," she said.
Often switching from past to present tense when talking about her second-to-last born, Gray said, "Kimani was bright, respectful. He also had struggles because he wanted to do the best for us. He wanted me to be content and stop worrying so much, so he was trying to do the right thing by attending school every day. At the same time, he had struggles because he was a normal teenager.