A new year's intro to Jacques Schwarz-Bart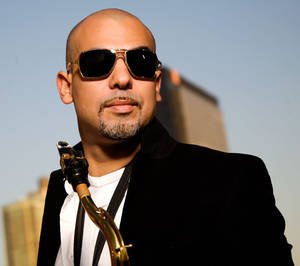 It's 2013. And there's beautiful magic in the air. It floats ever so sweetly in oneness with Spirit while visibly soothing the soul. Its distinctive rhythms conjure up a unique state of mind that transports you to a surreal world. Here in this sphere, the mood is transcendent, the Jacques Schwarz-Bart quartet reigns, and the request of the day is the prolific CD "The Art of Dreaming" (Nave/Naxos, U.S. 2012; Aztec Musique France, 2012).
The Guadeloupean-born Schwarz-Bart, a New York resident, describes the premise of his current innovative music project as a "state of heightened awareness shared when playing together, which can be described as dreaming while awake." Citing anthropologist/author Carlos Castaneda, Schwarz-Bart explained: "Ancient Toltec sorcerers had developed the art of staying aware while dreaming, in order to travel to parallel worlds and have a better understanding of the human potential."
Schwarz-Bart further expounded: "As I was reading Castaneda's book 'The Art of Dreaming,' I immediately drew a comparison with the musician's quest. Except that instead of staying aware during their dreams, musicians manage to dream while awake, and they share their 'dreams' with other musicians and audiences. My first fluid experience took place with this quartet," the tenor saxophonist/composer shared, alluding to the himself and the other members of the quartet: Baptiste Trotignon, acoustic piano; Thomas Bramerie, acoustic bass; and Hans Van Oosterhout, drum.
Summing up the journey, Schwarz-Bart revealed: "I immediately felt as if we were traveling together, gliding through a dream that was one and the same."
The result of this stimulating experience is the inspirational, avant-garde track "The Art of Dreaming." The album's exciting selections are "Blues Jonjon," "It's Pain," "Lullaby From Atlantis" and "Dlo Pann," composed by Schwarz-Bart; "Peyotl," "Moods," "Masssassoit" and "Voir," arranged by Baptiste Trotignon; and "Now" and "Emile," arranged by Thomas Bramerie.
Now you know a little about Schwarz-Bart's fascinating project, "The Art of Dreaming." We will explore the music components of the album next week. However, on this maiden voyage with the saxophonist, we wanted to share a little more of Schwarz-Bart's background.
His parents Andre and Simone Schwarz-Bart are both novelists. His father, who is of French Jewish background and his mother, who is Guadeloupean, traveled extensively, residing in various places that included Senegal, Switzerland and Guadeloupe. Consequently, as a child Jacques absorbed Creole, French and Jewish cultural influences, as well as Swiss and Senegalese. These influences would show up in his music, starting with the Gwoka drum from Guadeloupe. He was introduced to this instrument at the age of 4 by Anzala, a Gwoka drum master who taught him how to play the seven fundamental rhythms of the group of hand drums, which comprise a significant part of Guadeloupean folk music.
A few years later, a curious Schwarz-Bart got a taste of jazz after listening to some records while living in Switzerland. The gifted youngster taught himself to play guitar by accompanying the albums. Before he was even a teen, he could be found playing with Lausanne's local jazz musicians. However, the family relocated to Guadeloupe, and it was not until he was 24, when he tried to play a friend's tenor saxophone in Paris, that he knew what he was born to do. Subsequently he headed for Boston to study music at Berklee School of Music.